Pana Lake
Shelby County, IL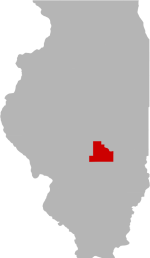 SHARE THIS PAGE
Pana Lake is located east of the City of Pana in Christian and Shelby Counties.
Two lakes combine to cover 219 surface acres and consist of a separate older upper lake (69 acres) and newer lower lake (144 acres). The maximum depth is 36 feet with an average depth of 13.7 feet. A public boat launch is available only on the lower lake. The City of Pana (217-562-3626) collects a boating access fee. All tournaments must be scheduled through ifishillinois.org.
2 pole and line only with no more than two hooks or lures per pole. Muskie anglers: live bait in excess of 8 inches must be rigged with a quick strike rig.

The City of Pana (217-562-3626) collects a boating access fee. All tournaments must be scheduled through ifishillinios.org.
Boat Landing
Swimming
Boat Rentals
Skiing
Bluegill
Channel Catfish
Crappie
Flathead Catfish
Largemouth Bass
Muskie
Carp
NOTE: This list may not be all inclusive of all speices present in Pana Lake .
BLUEGILL
POOR
Bluegill fishing is poor-fair. Few fish exceed 7 inches.
CARP
GOOD
Common carp are abundant with fish exceeding 14 lbs. Fishing quality is rated as good.
CHANNEL CATFISH
EXCELLENT
Channel catfish are stocked by IDNR hatcheries and very abundant in this lake. The average catch goes from 3/4 - 5 pounds, with the occasional fish over 10 pounds caught. Fishing prospects are rated as excellent for 2016! Site Regulation: 6 fish daily; no length limit.
CRAPPIE
GOOD
Crappie, both white and black, are present, with white crappie abundant. Anglers may catch crappie up to 11+ inches and 0.5+ pounds. Fishing prospects for 2016 are good.
FLATHEAD CATFISH
GOOD
Flathead catfish are fairly abundant. Many young flathead catfish are collected in surveys. The largest flathead collected was 32 inches and weighed 14+ lbs. Fishing quality is rated as fair-good.
LARGEMOUTH BASS
GOOD
Largemouth bass are fairly abundant with bass from 1/2 – 3 pounds common. Fish over 6 pounds are caught on occasion. Most bass collected were young-of-the-year fish. Recruitment has improved with the presence of aquatic vegetation in the lake. The collection rate of larger bass was less than desirable, but the population density is likely higher than these numbers reflect. The largest bass collected was 19" and 3.7 lbs. Fishing quality is rated as fair-good for both size structure and density for 2016. Site Regulation: 6 fish daily; 14" minimum (large and smallmouth)
MUSKELLUNGE
FAIR
Muskellunge, of larger sizes, were initially stocked in 2011. Numbers collected have been highly variable. Anglers have reported catching large fish. Fishing quality is rated as fair for 2016. Site Regulation: 1 fish daily; 48" minimum
HISTORY AND STATUS OF FISHERY
The fish population of Pana Lake is intensively surveyed every two years, primarily by electrofishing. The fish are measured, weighed, and scales collected for aging before releasing the fish alive. Channel catfish and muskellunge (muskie) are stocked annually through the IDNR hatcheries.
Yellow bass, longear sunfish, green sunfish, warmouth, and yellow bullheads are present, but are seldom harvested by anglers due to the small size attained by most of these species. Gizzard shad and golden shiners are the primary forage for gamefish.
CONTACT / CONTROLLING AUTHORITY
City of Pana
217-562-3626
IDNR Fisheries Biologist, Mike Mounce
217-345-2420
NOTICE: Lake-Link Inc assumes no responsibility or liability for any errors or omissions of the information for Pana Lake . Although we strive to provide the most accurate information as we can the information contained in this page is provided on an "as is" basis with no guarantees of completeness, accuracy, usefulness or timeliness.