Pittsfield Lake
Pike County, IL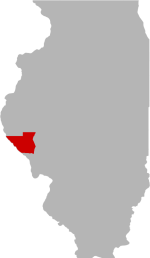 SHARE THIS PAGE
Lake Pittsfield is located in Pike County in West-Central Illinois between Pittsfield and Griggsville south of Interstate 72 and east of Route 107.
Pittsfield Lake was constructed by the city of Pittsfield in 1960 as a flood control impoundment. It was subsequently used as the source of drinking water for the city. No longer used as a water source, Pittsfield Lake attracts many anglers and campers to this rural setting. Pittsfield Lake has a maximum depth of 34 feet and an average depth of 12 feet. Shoreline length is 5.2 miles and is 241 acres. The western shoreline of the lake is predominately steep-sided and does not provide much bank angling access. The eastern shoreline is comprised of shallow flats, rip-rap shoreline and excellent aquatic vegetation beds. Underwater, fallen trees and submerged stumps are found throughout the lake.
The lake offers two boat launches, camping and picnicking. A boat permit and launch fee are required (Pittsfield City Hall 217-285-4484). The lake is no wake.
2 pole and line fishing only – sport anglers can harvest carp, buffalo, suckers and gar by bow and
arrow devices, gigs or spears during May and June.
Site Regulations:
Largemouth bass: 14" minimum length limit with a creel limit of 6 per day
Striped, white, or hybrid striped bass – 17" minimum length limit with a creel limit of 3 per day
Walleye – state wide - 14" minimum length limit with a creel limit of 6 per day
Effective April 21,2020
Fishing Tournaments held on Pittsfield City Lake require a $30.00 Tournament Permit issued by, Pittsfield City Hall, at least 5 days before the scheduled event. This replaces the previous individual launch fee for the day of the event only. Pre-fishing the lake prior to the scheduled event will require the daily launch fee or an annual lake permit.
Email:
[email protected]
or Email:
[email protected]
No HP Limit, No Wake Only
Boat Landing
Camping
Swimming
Boat Rentals
Picnicking
Skiing
Channel Catfish
Crappie
Flathead Catfish
Hybrid Striped Bass
Largemouth Bass
Muskie
Northern Pike
Redear Sunfish
Walleye
NOTE: This list may not be all inclusive of all speices present in Pittsfield Lake.
CHANNEL CATFISH
GOOD
The trap net and electrofishing surveys conducted in spring and fall 2016 showed a lack of channel catfish below 24", which indicates poor recruitment into the population. Channel catfish collected during the spring trap net survey measuring between 24 – 31" and weighing up to 15.8 lbs. These fish were in excellent body condition. Pittsfield Lake was added to the channel catfish stocking list and will receive non-vulnerable sized 8-10" channel catfish to supplement the population if hatchery production allows. Anglers can catch channel catfish near deadfalls and stickups in the warmer months throughout the lake using bottom fishing techniques with cut bait, shrimp, chicken livers or night crawlers.
CRAPPIE
GOOD
White crappie are the dominant crappie species in Pittsfield Lake, which is common in a turbid lake. However, a decent population of black crappie is present. We collected more crappie during the spring trap net survey compared to the fall electrofishing survey, ranging from 6.5 – 15" weighing up to 1.9 lbs. Both white and black crappie were in below average body condition, which suggests there is most likely competition for food sources occurring within the population. White crappie are fatter than black crappie in Pittsfield Lake, which is also common in turbid lakes as white crappie are better able to tolerate such conditions. There is no fishing regulation for crappie at Pittsfield Lake. Crappie species are often times very reproductive, therefor a regulation on harvest is not necessary. Anglers can catch crappie species around submerged structures throughout the lake in the spring and fall with spinners, jigs and minnows.
FLATHEAD CATFISH
EXCELLENT
Flatheads during our spring trap net and fall electrofishing surveys ranged from 11 – 41.5" and weighed up to 42 lbs. The population is doing well and should provide excellent fishing opportunities.
HYBRID STRIPED BASS (WIPERS)
EXCELLENT
The hybrid striped bass population is excellent at Pittsfield Lake. Hybrid stripers collected in our spring trap net surveys and fall electrofishing survey ranged in size from 17 – 28" and weighed up to 12.6 lbs. These fish are in excellent body condition. Hybrid striped bass are stocked annually when hatchery production allows. They provide a great fishing opportunity for those looking to diversify their catch. Site Regulation: 17" minimum length limit with a creel limit of 3 per day.
LARGEMOUTH BASS
GOOD
Bass sampled ranged from 4 – 21.5" and weighed up to 6 lbs. The population structure is good with 37% of catchable bass measuring over the 14" minimum length limit and 9% measuring over 18". Largemouth bass body condition was good and within management goals. Anglers can catch largemouth bass off of points, deadfalls, and stickups in the warmer months of the year with plastic worms, jigs, spinners, crank baits, minnows, crayfish and worms. Site Regulation: 14" minimum length limit with a creel limit of 6 per day.
REDEAR SUNFISH
POOR
Redear sunfish were relatively small and sparse, with the largest fish reaching 7.5". Little change in sunfish fishing is anticipated for 2016.
WALLEYE
VERY GOOD
Walleye are stocked annually as fingerlings by the State Hatchery system. We only collected 10 walleye from our 2016 surveys ranging from 9 – 26" weighing up to 7.9 lbs. Body condition was good. It is expected that the walleye population is doing well given the good body condition observed, the wide range of size classes, the abundant forage base, and a lower density of largemouth bass. Nice walleye can be caught in the at the base of the dam in the spring or fall using minnows, night crawlers, jigs, crank baits, spoons and spinners. Statewide Regulation: 14" minimum length limit with a creel limit of 6 per day.
HISTORY AND STATUS OF FISHERY
Pittsfield Lake was first stocked with largemouth bass in 1961. This was followed by redear sunfish stocking in 1962 and channel catfish in 1963. It was opened to fishing in the spring of 1962. In 1971 both white and black crappie were added. Walleye and northern pike were added in 1975, and hybrid striped bass in 1983. Predators were added to the lake as an attempt to utilize and control the abundant gizzard shad population. Flathead catfish were stocked later for the same reason. The Division of Fisheries presently stocks hybrid striped bass and walleye annually.
CONTACT / CONTROLLING AUTHORITY
City of Pittsfield
Pittsfield City Hall, 215 North Monroe, Pittsfield, Il. 62363
217-285-4484
IDNR Fisheries Biologist, Blake Ruebush
217-622-7219
NOTICE: Lake-Link Inc assumes no responsibility or liability for any errors or omissions of the information for Pittsfield Lake. Although we strive to provide the most accurate information as we can the information contained in this page is provided on an "as is" basis with no guarantees of completeness, accuracy, usefulness or timeliness.