Lake Jacksonville
Morgan County, IL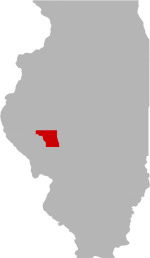 SHARE THIS PAGE
Lake Jacksonville is located 3 miles south of Jacksonville and 30 miles west of Springfield just off of I-72.
Lake Jacksonville is 476 acres with a maximum depth of 31 feet, an average depth of 12.5 feet, 18.5 miles of shoreline, and maintains abundant aquatic vegetation beds. The lake has a nice double ramp on the north shore.
2 pole and line fishing only.

Carp, buffalo, sucks and carpsuckers may be taken by means of pitchfork and gigs (no bow and arrow devices).

Site regulations:
Largemouth bass: 14– 18" protected slow, 3 fish daily limit
Crappie: No more than 10 fish greater than or equal to 10", 25 fish daily limit
Hybrid striped bass: 17" minimum length, 3 fish daily limit
Channel catfish: 6 fish daily limit
Unrestricted
Boat Landing
Camping
Swimming
Boat Rentals
Picnicking
Skiing
Bluegill
Channel Catfish
Hybrid Striped Bass
Largemouth Bass
Rainbow Trout
Redear Sunfish
White Crappie
NOTE: This list may not be all inclusive of all speices present in Lake Jacksonville.
BLUEGILL
POOR
The bluegill population is below average in Lake Jacksonville. Twenty-seven percent of the catchable population measured between 6-7" in 2017, comparable to 30% in 2016.
CHANNEL CATFISH
EXCELLENT
The channel catfish population is excellent, both in quantity and quality. Channel cats are collected every year weighing 2-10 pounds in good numbers and are in excellent body condition. Anglers can catch channel catfish in the warmer months using bottom fishing techniques near deadfalls, woody debris, and shallow flats with cut bait, shrimp, chicken livers or night crawlers. Site Regulation: 6 fish daily limit.
HYBRID STRIPED BASS (WIPERS)
VERY GOOD
Hybrid striped bass have been stocked on alternate years since 1988 and have done well. The 2017 spring trap netting survey yielded four hybrid striped bass. These fish ranged from 22-27" (6.7-13.7lbs). The average body condition of these fish was excellent. Angler accounts suggest that the population is doing well and is providing good fishing opportunities. Hybrid stripers provide a great fishing opportunity for those looking to diversify their catch.
LARGEMOUTH BASS
GOOD
The bass population at Lake Jacksonville remains very good, however it is showing some signs of an aging lake. Over the years undesirable species have become established (e.g. bullhead spp., common carp, yellow bass) and Eurasian water milfoil has replaced the native submersed aquatic plant, coontail. The 2017 fall electrofishing survey yielded a lower catch rate of 55.8 largemouth bass/hour compared to the 2016 survey (catch rate=154 bass/hr.). The decrease in catch rate shown in 2017 is likely attributed to the low water level during the survey. The lake was 18" below normal pool leaving much of the good shoreline structure in shallow water. In 2017, we collected bass ranging from 3.5-22" (0.03 - 8.14 lbs.). A protective slot of 14-18" with a harvest limit of 3 fish per day started April 1, 2017. Lake Jacksonville is currently under a consumption advisory for largemouth bass measuring over 15". No more than 1 meal/week is recommended for women beyond child bearing age and men more than 15 years old, while no more than 1 meal/month is recommended for pregnant or nursing women or women of child bearing age and children less than 15 years old. Check www.ifishillinois.org for updated consumption advisories. Anglers can catch largemouth bass on points, deadfalls, stickups, and along aquatic vegetation beds in the spring and fall with plastic worms, jigs, spinners, crank baits, minnows, crayfish and worms.
REDEAR SUNFISH
FAIR
The redear sunfish population is similar to the bluegill population, but shows higher numbers of 7-8" fish than bluegill.
WHITE CRAPPIE
AVERAGE
The white crappie population is average and is characterized by a large number or fish measuring less than 10". The 2017 electrofishing survey yielded a catch rate of 24.8 fish/hr. with 37% of white crappie exceeding 10". White crappie body condition of 89 is just below the lower end of the management goal. Nineteen black crappies were collected (catch rate=4.7) using electrofishing in 2017. A supplemental spring trap netting survey was conducted to better evaluate the crappie fishery in Lake Jacksonville. White crappie continued to outnumber black crappie. A total of 145 white crappies and 23 black crappies were collected during the 2017 spring trap netting survey. White Crappie measuring 8" or greater represented 93% of the sample, 23% were 10" or greater, and 6% exceeded 12". The crappie regulation is 25 fish/day harvest limit with no more than 10 fish measuring greater than or equal to 10". This regulation was put into place with a goal to reduce the density of fish measuring less than 10", which will allow for more food sources and faster growth rates of the remaining fish. Anglers can catch white crappie on stickups and submerged structures in the spring and fall using spinners, jigs and minnows. The largest white crappie ever collected during an electrofishing survey measured over 15" and weighed 1.8 lbs.
HISTORY AND STATUS OF FISHERY
The Division of Fisheries entered into a formal Cooperative Management Agreement with the City of Jacksonville in 1984 to manage the sport fishery. Due to the poor sportfishery, the lake was completely drained, rehabilitated and restocked in 1986. This project produced one of the best largemouth bass populations in the state.
CONTACT / CONTROLLING AUTHORITY
Site Superintendent
217-479-4644
IDNR Fisheries Biologist, Blake Ruebush
217-622-7219
NOTICE: Lake-Link Inc assumes no responsibility or liability for any errors or omissions of the information for Lake Jacksonville. Although we strive to provide the most accurate information as we can the information contained in this page is provided on an "as is" basis with no guarantees of completeness, accuracy, usefulness or timeliness.