Lake Bloomington
McLean County, IL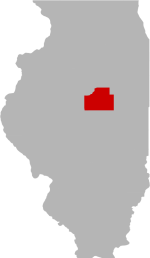 SHARE THIS PAGE
Lake Bloomington is located approximately 15 miles North of Bloomington IL, Lake Bloomington is easily accessible by taking I-39 North to the Lake Bloomington Exit, then proceeding east on the Lake Bloomington Road (2500N) 4 miles.
This fertile 635-acre lake has a maximum depth of 36 feet, an average depth of 14.5 feet, and 18.5 miles of shoreline. Lake Bloomington is owned by the City of Bloomington, IL and is maintained and operated by the City's Water Department. Lake Bloomington has been named one of the National Fish Habitat Partnership's "Waters to Watch" for 2014. The Reservoir Fisheries Habitat Partnership is partnering with the Friends of EverBloom, IDNR, the City of Bloomington, McLean County Soil and Water Conservation District, McLean County Parks and Recreation and local vendors to rehabilitate a severely eroded shoreline on Lake Bloomington. IL DNR staff will continue to monitor the fish community following the completion of the project.
Learn more about this project here
. In addition, more detailed information can be found
here
.
There is one public boat launch, but there is a fee to use the ramp/lake. Two pole and line fishing only, no trot lines, jugs or bank poles. There is a 40hp outboard motor restriction. The City of Bloomington requires a boat sticker for watercraft utilizing Lake Bloomington.
40hp
Boat Landing
Camping
Swimming
Boat Rentals
Picnicking
Skiing
Channel Catfish
Crappie
Hybrid Striped Bass
Largemouth Bass
Northern Pike
Smallmouth Bass
Walleye
NOTE: This list may not be all inclusive of all speices present in Lake Bloomington.
CHANNEL CATFISH
AVERAGE
During the most recent fish survey, only 4 channel catfish were collected. The current channel catfish fishery is average in Lake Bloomington. Lake Bloomington does not receive any catfish stockings.
CRAPPIE
GOOD
Both black and white crappie are present in Lake Bloomington. The most recent spring electrofishing survey resulted in the collection of 57.1 white crappie per hour and 12 black crappie per hour. The objective is to collect 25 per hour for each species. The black crappie ranged in size from 7 inches to 10.5 inches and the largest black crappie collected weighed 0.6 pounds. The white crappie ranged in size from 7 inches to 14 inches and the largest white crappie weighed 1.37 pounds. See Site Regulation below.
HYBRID STRIPED BASS (WIPERS)
GOOD
The State record hybrid striped bass was caught at Lake Bloomington in 2017. The record hybrid weighed 21.45 pounds. The hybrid striped bass fishery in Lake Bloomington is considered good. See Site Regulation below.
LARGEMOUTH BASS
AVERAGE
During the most recent survey, the largest bass collected weighed 5.06 pounds. Of the bass collected over 8 inches, 42% were longer than 12 inches, and 10% longer than 15 inches. The average percent of bass over 15 inches is 21%. The bass fishery is average but the future looks promising. See Site Regulation below.
SMALLMOUTH BASS
DEVELOPING
Even though smallmouth bass have been in the lake since it was impounded, the fishery is not strong. A smallmouth bass stocking program was started in 2009 in an attempt to improve the fishery. See Site Regulation below.
WALLEYE
EXCELLENT
Walleye were first stocked into this lake in 1984, and it has received approximately 25,000 two-inch walleye every year. The most recent electrofishing survey for walleye resulted in 34.3 walleye per hour of sampling. The average catch rate for the past 18 surveys is 38.6 walleye per hour. Walleye collected during the most recent survey ranged in size from 8 inches to 24 inches. In the spring of 2019, nets were used to collected walleye and 4.4 walleye per net were collected. The average catch rate is 3.7 per net. Of the walleye collected over 10 inches, 41% were longer than 20 inches and 8% were longer than 25 inches. The walleye regulation was changed in 2017 to an 18 inch minimum length limit and a 3 per day harvest limit. See Site Regulation below.
HISTORY AND STATUS OF FISHERY
The IDNR currently stocks walleye, smallmouth bass and hybrid striped bass. A community-wide fish survey is completed approximately every two years and hybrid striped bass, largemouth/smallmouth bass and walleye surveys are currently conducted on an annual basis.
CONTACT / CONTROLLING AUTHORITY
Lake Bloomington
309-434-2161
IDNR Fisheries Biologist, Mike Garthaus
217-784-4730
NOTICE: Lake-Link Inc assumes no responsibility or liability for any errors or omissions of the information for Lake Bloomington. Although we strive to provide the most accurate information as we can the information contained in this page is provided on an "as is" basis with no guarantees of completeness, accuracy, usefulness or timeliness.