Bangs Lake Reviews
Lake County, IL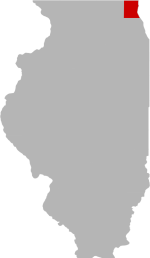 SHARE THIS PAGE
There are currently 11 reviews for Bangs Lake.
Tell others what you think of this lake by writing your own personal reveiw:
SUBMIT YOUR LAKE REVIEW
May 31, 2020
"This lake is closed to boating and kayaking most of the year. The village officials prefer the lake to be closed as much as possible, for any reason they can dream up. Great Lake, a couple days a year."
January 10, 2012
"Bangs Lake has some great fishing! You can get Bait right by the water from Bangs Lake Bait Co. at 106 N Main Street. Lots of Bass, Northern's, Crappies, Blue Gills, and Catfish! Also the Occasional Walleye. I Highly recommend coming out for a fun day on this lake that is a short drive from Chicago."
April 13, 2011
"If you dont mind fishing from first light until 12 noon, then this is a great lake for you. The bass fishing is good and if you can work the pattern and catch a bunch, your earned them as they are not easy to catch over 2lb..."
September 1, 2010
"there is only one boat launch on the lake ..One on main street no longer allows access .Boat launch is $20.00 .Drove around in circles until I did find the launch and was told the amount No lake in Illinois is worth that amount for me to fish for one day No help from residents who couldn`t be bothered Noticed a large park on the lake but no public launch .Sure hope my taxpayer money was used in the building or design Hope this was funded 100% by the town I`ll go spend my money in another state"
January 27, 2009
"I think Bang's Lake rates a 5 for several reasons: 1) There is good access to the lake with free parking 2) Bait is readily available right on shore 3) There is a good variety of depths to fish and a good variety of bottom types (very high weeds, low weeds, sand & gravel) 4) There is a good variety of fish to be caught (crappie, bluegills, bass, perch, walleye & northerns) 5) It's close to my house :)"
May 14, 2008
"I have fished this lake since 1980ish, You dont get the regular 5 to 7 pounders like you use to but they are in there. Its become popular and the fishing pressure has increased. Its not Lake Geneva but for a couple of hours on the water or somewhere close to bring the kids, you cant beat it."
January 16, 2007
"I live on the lake and i love it. It is almost impossible to not catch bass out here. Most are between 13 and 18 inches but i worked at wauconda boat and i have seen bass near 8 or 9 pounds."
April 26, 2005
"largemouths of 5 lbs plus. 6 in. plastic purple worms on quarter ounce standup jigheads black. works for me. slow and easy."
August 22, 2004
"This lake is VERY small - and has a lot of boat traffic. Unfortunately it also has a lot of inconsiderate boat traffic to the small fishing community. NO WAKE means NO WAKE - it doesn't mean fly by the small 16' fishing boat with your speed boat at 50 MPH! Spent the better half of 3-1/2 hours on this lake and didn't catch anything. Although the water was so choppy from all the skiing and tubing, it's no wonder. It is a very nice area, just not intended for fishing, it's too small with too much traffic!"
June 15, 2001
"Fishing Bangs Lake is Fun! There are many fish, not always large although I have caught some three pound bass. Large perch are also available, caught away from shore on the edge of the weeds where it drops to deeper water. Bangs Lake has new limits for most type of fish this year. Review the regulations. Many, Many, Many, Bluegills. Great for fishing until 10:00am, there is a no wake rule until this time. Boats are available for rent. Please practice CPR."