Rend Lake
Franklin County, IL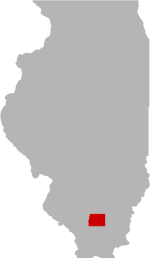 SHARE THIS PAGE
Rend Lake is located in Franklin and Jefferson counties along IL Interstate 57 approximately 15 miles south of Mt. Vernon and just northwest of Benton.
Rend Lake was completed in 1971 by the U.S. Army Corps of Engineers. The lake was formed by constructing a 2-mile-long dam across the Big Muddy River floodplain. At normal pool, Rend Lake has a surface area of 18,900 acres, a maximum depth of 35 feet, and a mean depth of 10 feet. The lake is thirteen miles long and three miles wide and has 162 miles of shoreline. It is the second largest impoundment in Illinois.
Site Regulations:
Largemouth, Smallmouth or Spotted Bass: 6 fish daily limit, 14" minimum length limit
White, Black or Hybrid Crappie: 25 daily limit, not more than 10 exceeding 10"
White, Yellow or Hybrid Striped Bass: 20 daily limit, not more than 3 exceeding 17"
Unrestricted
Boat Landing
Camping
Swimming
Boat Rentals
Picnicking
Skiing
Black Crappie
Bluegill
Channel Catfish
Flathead Catfish
Hybrid Striped Bass
Largemouth Bass
White Bass
White Crappie
Wiper Bass
Yellow Bass
Carp
Drum (Sheepshead)
NOTE: This list may not be all inclusive of all speices present in Rend Lake.
LARGEMOUTH BASS
Good using minnows, spinnerbaits, rattle traps & other surface baits. Try flipping into water around wood structure. Fish around bridges and along the rocks and other structure. 154 rocks are pretty good.
CRAPPIE
Good using medium minnows, small crankbaits, qtr oz pink/white jigs heads with various artificial jigs. Fishing is Good around structure around 10 to 12 feet deep. Fishing is good around the bridges along 154 as well as gun creek and waltonville.
BLUEGILL
Fair using small jigs, worms, meal worms, wax worms & crickets. From shore try Sailboat Harbor and Mine 21 Road. Fish shallow with crickets, worms or small jigs. Set bait at half of water depth.
CHANNEL CATFISH
Good using large minnows, leeches, dip bait, shad & night crawlers. Try leeches in moving water. Drift fish the flats. Try the Waltonville Dam, Turnip Patch, and N Sandusky day-use area. Fishing is good along the rocks at the dam and rt. 154.
WHITE BASS
Good using inline spinners & white slab spoons. Reports of fish being caught around the 154 bridges. Fish along the rocks and drop-offs Fish in shallow bays near brush cover and bushes.
Source: Illinois DNR
BLUEGILL
GOOD
The size structure of the bluegill population remained stable. Bluegill will be abundant in the coming year with most keepers 6.5"- 8" in length and averaging 1/3 lb or less with a few larger fish reaching 1/2 lb. With above average growth rates and excellent body condition, the population should continue to provide good fishing in the coming year.
CHANNEL CATFISH
EXCELLENT
The fishing prospects for channel catfish remain excellent for the coming year. Natural reproduction and recruitment continue to be very strong, and are responsible for maintaining the large population of fish in the lake. The condition of these fish is fair and growth rates are good. In the coming year, channel catfish from 1 – 3.5 pounds should be abundant with larger fish up to 6 pounds common. This lake remains one of the premier channel catfish waters in southern Illinois, and should remain on your list of places to fish for channels in 2020.
CRAPPIE
VERY GOOD
The portion of the crappie population comprised of fish over 10" in length is over 35%. For 2020, crappie 10"-12" in length and averaging 1/2 to 1+ pound will should provide some quality angling opportunities. Crappie 8"- 10" remain abundant as well and will also contribute to the creel. The number of crappie over 12" in length remains stable and relatively low. The condition of all sizes of crappie is very good. Regulations will remain unchanged in 2020, but the population will be monitored closely. Site Regulation: White, Black or Hybrid Crappie: 25 daily limit, not more than 10 exceeding 10".
HYBRID STRIPED BASS (WIPERS)
FAIR
Six striped bass hybrids were collected in the 2019 fall survey. The hybrids collected were 14-15 inches in length and weighed 1-2 pounds. Site Regulation: 20 daily limit, not more than 3 exceeding 17"
LARGEMOUTH BASS
AVERAGE
The bass population for 2020 will be average. However, two excellent spawns in 2018-2019 will result in more bass reaching the 14 inch size limit in 2020 and 2021. based on the 2019 fall survey, the percentage of the population exceeding the 14" minimum length limit was 22%. Another 13% of the bass population was between 12-14 inches or just below the 14 inch length limit. The number of larger bass over 18" in length remains stable but low. Site Regulation: 6 fish daily limit, 14" minimum length limit.
WHITE BASS
VERY GOOD
The number of white bass collected in the fall 2019 electrofishing survey was more than double the 5-year average. Fishing should be good in 20207. Anglers can expect the catchable population to be largely comprised of fish 12"- 16" in length and weighing 0.5 – 1.5 pounds. Site Regulation: 20 daily limit, not more than 3 exceeding 17".
HISTORY AND STATUS OF FISHERY
There are more than 30 species of fish in Rend Lake. In addition to traditional sport fish, Rend Lake also contains large populations of carp, buffalo, gar, drum, and shad. The fish population is surveyed annually.
CONTACT / CONTROLLING AUTHORITY
Wayne Fitzgerrell State Park
618-629-2320
IDNR Fisheries Biologist, Shawn Hirst 618-559-5009
Rend Lake COE 618-724-249
NOTICE: Lake-Link Inc assumes no responsibility or liability for any errors or omissions of the information for Rend Lake. Although we strive to provide the most accurate information as we can the information contained in this page is provided on an "as is" basis with no guarantees of completeness, accuracy, usefulness or timeliness.