KINKAID LAKE
Jackson County, IL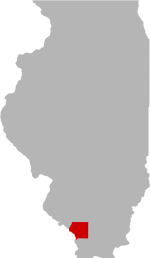 SHARE THIS PAGE
Kinkaid Lake is located in Jackson County three miles northwest of Murphysboro off of State Route 149.
There are 3 public boat launching facilities around the Lake. Kinkaid Lake is 2750 acres in size, has a shoreline length of 82 miles and a maximum depth of 80 feet. The NW portion of the Lake consists of a 3-mile no-wake zone.
Kinkaid Lake receives a tremendous amount of recreational boat traffic during the hot summer months especially on the weekends and holidays. To avoid the crowd, anglers may consider fishing early in the morning and/or during the week. The upper NW portion of Kinkaid Lake is referred to as the Johnson Creek Area. About 3 miles of this area is a no wake zone that gets very turbid for multiple days after heavy rain events. Threadfin shad are stocked into this lake when available as a supplemental forage base. All live bait in excess of 8" must be rigged with a quick set rig.

Tagged Fish: Please report tagged muskie to the Department of Natural Resources at 618-687-4546. Please provide tag number, length of muskie, and catch date.
Unrestricted
Boat Landing
Camping
Swimming
Boat Rentals
Picnicking
Skiing
Bluegill
Channel Catfish
Largemouth Bass
Muskie
Spotted Bass
Walleye
White Bass
White Crappie
Yellow Bullhead
Carp
Sucker
NOTE: This list may not be all inclusive of all speices present in KINKAID LAKE.
BLUEGILL
POOR
The bluegill population structure is poor. During the 2019 spring electrofishing survey, no bluegill over 8 inches were collected.
CHANNEL CATFISH
GOOD
Kinkaid Lake has a good and underutilized channel catfish population. Channel catfish up to 9 pounds were collected in 2019 survey.
CRAPPIE
EXCELLENT
Kinkaid Lake is known for producing large crappie. Crappie over 2 pounds are caught each year, and at least two 4-pound crappie have been caught in the last 4 years. Blacknose crappie were first stocked in 2010. Legal-sized blacknose crappie were first caught in 2013. 87% of the crappie collected during the spring 2019 survey were over the minimum nine-inch length limit, 76% were over 10 inches, and 13% were over 12 inches. In March 2017 a new state record hybrid crappie was caught at Kinkaid Lake. The crappie measured 18.1 inches in length and weighed 4.55 pounds. It is the largest documented crappie ever caught in Illinois.Site Regulation: White, black, hybrid crappie: 25 fish daily limit; 9" minimum length limit.
FLATHEAD CATFISH
FAIR
Surveys indicate that a small number of flathead catfish are present. At least one flathead catfish has been collected in 3 of the last 6 surveys.
LARGEMOUTH BASS
VERY GOOD
Of the bass collected during the 2019 spring survey, 22% were over the minimum 16 inch size limit and 9% were over 18 inches. Fourteen percent of all largemouth bass collected were between 15-16 inches.Site Regulation: 3 fish daily limit; 16" minimum length limit.
MUSKELLUNGE
EXCELLENT
Kinkaid Lake is one of the premier muskie lakes in Illinois. Muskie are stocked annually and many are caught each year in excess of 40 inches. During the 2019 spring survey 172 muskies were collected and the largest muskie measured 45.5 inches in length. Anglers are encouraged to NOT fish for muskie in the warmer summer months as angling mortality is believed to be very high especially, for larger muskie. Please report tagged MUE to IDNR Fish Biologist Shawn Hirst at 618-687-4546 or email at
[email protected]
Anglers reporting a tagged muskie will receive information on the history of that fish. If the tag number is covered with algae, simply scrape the algae away with your fingernail or a knife. Please provide tag number (5 digits), length, and catch date. Please do not remove the tag. Site Regulation: 1 fish daily limit; 48" minimum length limit.
REDEAR SUNFISH
AVERAGE
The redear population is average. Of the redear collected in the 2019 spring electrofishing survey, 24% were over seven-inches in length. No redear sunfish over 8 inches were collected. The redear population is average. Redear sunfish over 8 inches are present in small numbers.
WALLEYE
GOOD
IDNR annually stocks walleye into Kinkaid Lake, and fish up to 11 pounds have been collected in netting surveys. Walleye numbers are not high, but trophy-sized fish can be caught. The best areas are in front of the dam and spillway during spring high water events. During 2019 trap netting, the largest fish collected measured 23 inches. Site Regulation: 6 fish daily limit; 14" minimum length limit.
CONTACT / CONTROLLING AUTHORITY
Kinkaid Lake Fish and Wildlife Area
618-684-2867
IDNR Fisheries Biologist, Shawn Hirst
618-559-5009
NOTICE: Lake-Link Inc assumes no responsibility or liability for any errors or omissions of the information for KINKAID LAKE. Although we strive to provide the most accurate information as we can the information contained in this page is provided on an "as is" basis with no guarantees of completeness, accuracy, usefulness or timeliness.