Lake Michigan Shoreline, Cook County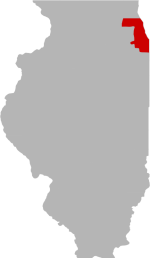 SHARE THIS PAGE
DISPLAYING 1 TO 10 OF 130 POSTS
FILTER OPTIONS
3/20/16 @ 2:36 PM
FISHING REPORT
MOON PHASE (93%)
Waxing Gibbous
11/29/15 @ 2:15 PM
FISHING REPORT
MOON PHASE (83%)
Waning Gibbous
I fished Navy Pier from 6:30 am to 9:00 am. I caught 5 dinky perch and one golby. All the fish were caught next to the wall on an ice fishing rod with a small kastmaster spoon tipped with spikes. My buddy caught an 8 inch mud puppy/salamander on a minnow. I didn't have luck on crappie rigged minnows. I didn't see many people catching anything. One guy said the past couple of days were good but the East wind shut things down. It was tough finding the office to validate parking for $6. Then I fished an hour at the mouth of Montrose but no takers.
9/16/15 @ 11:51 AM
I know that was a Brownie - I was using the perch as a comparison - is the past I've got perch in the winter females had eggs and males had spawn sacks or whatever - being that my brownie had neither eggs nor spawn in it I could not tell if it was male or female - maybe it was a female that had released eggs already - dont know - just asking...
Perch Ha - reminds me of 35 years ago when Dad and I first landed a Dog Fish while Bobber fishing in Michigan with Huge Suckers - we thought it was a Huge Steelhead as we had never caught a single fish prior to that. We walked that stinky Bowfin into the bait shop and they all started laughing!!!
Thankfully we have come a way since then but I'm just getting started this year really shore fishing salmon/trout...
The Brown was a good start - fed about 8 people!!! Yummie!!!!!!
DISPLAYING 1 TO 10 OF 130 POSTS