Lake Michigan, Cook County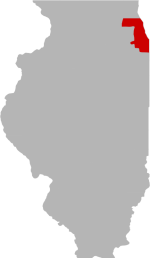 SHARE THIS PAGE
DISPLAYING 1 TO 10 OF 29 POSTS
FILTER OPTIONS
1/25/19 @ 1:10 AM
FISHING REPORT
MOON PHASE (73%)
Waning Gibbous
I stopped by Diversey Harbor on my way home from work tonight to check the ice. I drilled a hole at the little park district ramp right before it goes under the fullerton bridge, 1.5"
I drilled another hole at the far north end of the harbor and there was 2" of ice. I didnt venture out onto any of the piers because I don't have a pier pass yet.
There is still open water at the bridge under lakeshore, otherwise the rest of the harbor is locked up. Not that the perch are any good right now but the cold should have the harbors fishable by next weekend.
12/29/18 @ 4:51 PM
FISHING REPORT
Finally got out to Navy Pier today hoping that the water had finally cleared up (wishful thinking) water is still bad only a few guys out and when I dropped my Marcum Recon in to see what was really going on it looked like an underwater blizzard of silt but on a good note the bottom up about 1 to 2 ft was clear so it's improving but very very slowly may still be weeks before it's good again or it could be shot for the season unless we get a good provaling wind off shore for a few days to clear it up also Burnham harbor is silty too same deal there too good luck to the north and have a safe New year
12/21/18 @ 5:09 PM
FISHING REPORT
MOON PHASE (99%)
Waxing Gibbous
Just spoke with Henry's Bait and tackle on a fishing report about Navy Pier that said few perch being cought and water is still a bit merky Burnham harbor Montrose harbor were better can anyone confirm that report or a better one on these spots for perch fishing I'm not looking to drive to Wisconsin just yet any information would be greatly appreciated
DISPLAYING 1 TO 10 OF 29 POSTS