Kinkaid Lake, Jackson County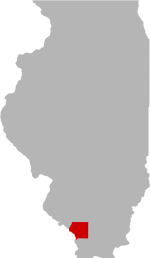 SHARE THIS PAGE
DISPLAYING 1 TO 10 OF 15 POSTS
FILTER OPTIONS
5/15/19 @ 6:25 AM
Fished down there last Wednesday and we caught all our fish in and behind the weeds right on the bank fishing minnows and jigs 8" deep. It's a deep lake but dont think they wont be VERY shallow! We didnt have any really big fish but caught a 3 man limit of 9 1/2" to 13" fish.
Read Pro Staff Bio
Crappie Predator Guide Service
(618) 472-4763
3/29/11 @ 5:42 PM
FISHING REPORT
Had a guide trip on kinkaid today water temps around 48 to 50 degrees. The bit wasnt as good as it was but caught several small crappie and ended up with 10 keepers with one of them pushing 2lbs and another pound and half. With the weather forcast showing a warm up again it should get better caught the fish in 12ft of water fishing 4 to 8ft minnows and black/chart glow jigs from midsouth tackle Jason Dudley Rendlakefishingguides.com
2/24/11 @ 12:55 PM
I went to school at SIU so I was there quite a bit myself. The spillway can be phenominal fishing at times. Lots of asian carp and gar, but last April when the water was really high I hooked into a nice 9lb stripper. At low water right below the falls you can hook into some nice crappie and bass.
2/23/11 @ 2:48 PM
I used to hang out at the spillway below Kincaid Lake in my college years. To those who've been there you know I wasn't there for the fishing.
Kincaid Lake is now home to some very large musky, and some very large crappie. This is coming from some of the fishing reports I have read on other sites.
I know that the largest musky from 2010 was caught there. It was a 49.875" behemoth.
DISPLAYING 1 TO 10 OF 15 POSTS