Kankakee River, Kankakee County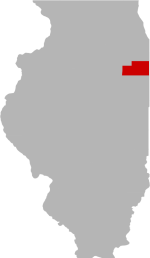 SHARE THIS PAGE
DISPLAYING 1 TO 10 OF 161 POSTS
FILTER OPTIONS
5/4/20 @ 5:02 PM
Fishnart,
Below is a link for you to check before you go to the river. If the gauge reads below 2' and you re familiar with the river it is wadable, but as always use caution. The ideal level is 1.8" or less and the current around 1,800. Much fast than 2,000, and you don't know where you are wading you can get swept off your feet pretty easily. There is a 3rd spot you can select on the page to show the water temp. I'm sure you can read a thermometer. The water level is 4.2" and the current is at 15,200 cubic feet per second; way too dangerous.
https://waterdata.usgs.gov/il/nwis/uv?cb_all_=on&cb_00010=on&cb_00060=on&cb_00065=on&format=gif_default&site_no=05527500&period=&begin_date=2020-04-27&end_date=2020-05-04
8/16/17 @ 10:57 AM
FISHING REPORT
MOON PHASE (31%)
Waning Crescent
5/13/16 @ 9:18 AM
FISHING REPORT
Can any one please tell me as I see there is a boat ramp at the fish and wild life area if the fishing is any good through that stretch of the river. Looking for bass and pike, also what baits seem to work good. Thanks.

5/10/16 @ 10:37 AM
I'd skip the main river if you can. Drop in at the state park area and work your way up Rock Creek. The smallies are running into the tributaries. Spittin' Image is driving them nuts. Move up slowly and toss the lure into the rapids and work towards the edge of the eddies. You can take two to three fish from the same spot often. I caught about 15 fish in an hour and a half. The largest was 19 inches. Good luck and have fun!

3/27/14 @ 12:12 AM
FISHING REPORT
too cold still the water is a bit high hoping to get out in a couple weeks again to catch the warmer water. watch the river levels anything above 3 feet at Wilmington I wouldn't waste your time from shore.
DISPLAYING 1 TO 10 OF 161 POSTS