Chicago River, Cook County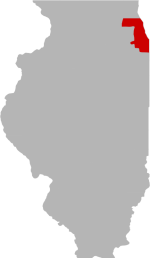 SHARE THIS PAGE
DISPLAYING 1 TO 10 OF 139 POSTS
FILTER OPTIONS
2/9/19 @ 7:55 PM
FISHING REPORT
MOON PHASE (20%)
Waxing Crescent
Crappie can be caught year round on the Chicago river.
http://www.youtube.com/watch?v=v2Qlir7oZVQ
7/18/17 @ 9:25 AM
More on the river 7-11-17

7/18/17 @ 9:22 AM
FISHING REPORT
MOON PHASE (29%)
Waning Crescent
More of the trip on the river 7-11-17

7/18/17 @ 9:19 AM
FISHING REPORT
MOON PHASE (29%)
Waning Crescent
Report is from 7-11-17
Finally had time to hit this very close to home hot bite...guys have been telling me stories for quite awhile and I finally had an off day to get there....we launched at the ramp at Western Ave. ..after a nice ride in you'll notice the scenery change from an industrial park setting to one of parks, greenery and river edge walk ways....very cool...we caught fish at almost every spot checked...numbers were great and size was above average for the area...even the crappie were thick and abundant ...they had the spawning colors on,which I thought was late in the season,but with the turbulent weather we've seen I guess it was happening...water clarity was better than 3 feet and the casted plastics, plain were smacked on almost every cast!!!

8/2/11 @ 11:53 PM
looking to get out this week, where is the best place to put in my bass boat? am i better off launching somewhere on the river or launching on the lake and using the locks? if i do the second should i launch at burnham? if not where is the closest launch to downtown? thanks everyone
5/11/11 @ 1:42 PM
FISHING REPORT
Well, its been a while since I reported. I have fished the river a few times since my last report but the weather has been mostly crappy. Well, I have caught no fish but I had 3 good bites today at lunch time. I fished behind Panera Bread between Jackson and Adams.
All 3 bites were really light but at least the second bite put up a good fight. I really think it was a LMB. I am using a 4 inch watermelon senko with Red/Blk flake, texas rigged with a bullet weight. Nothing fancy. Just lightly jigging it near the walls and stumps. They are biting when you dance it. You have to get them excited. Now that they are biting, I will be fishing and posting more often.
Oh wait,., rain for the next week.
5/6/11 @ 10:32 AM
I've used the Western Ave launch numerous times and haven't had any issues. I spoke with an officer and he said they patrol the area regularly. That being said, I'm sure I just jinxed myself. A little tricky to get to, but very convenient if you want to cruise or fish the river or get to the big lake via the locks.
TT
DISPLAYING 1 TO 10 OF 139 POSTS