Xtra Mile Outdoors
SHARE THIS PAGE
(608) 518-5375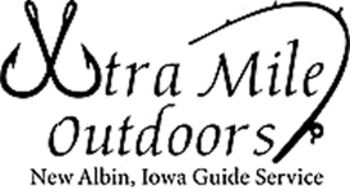 My name is Nathan, I am a licensed OUPV fishing guide on the Mississippi River, some inland lakes, and small rivers. I've worked in the outdoor industry for over 20 years. I am 28 years old so that makes up most of my life time. I've been in the guiding industry for a good portion of that time as well. I grew up fishing here on Mississippi River pools 8,9, and 10. In addition experienced 15 plus years on the Petenwell flow-age and Wisconsin River as well. I enjoy my passion for the woods and water, and make it my life goal to help others do the same! Please allow me the opportunity to make that happen for you!
Xtra Mile Outdoors, LLC. is a newly created business of mine. I use two boats for guiding, a 2018 Alumacraft Classic 165, and also a special occasions 14 foot Lowe flat bottom boat. Both are capable of producing great fish numbers! However, often I'll take a client to a honey hole which we will end up fishing from shore. It just all depends on the present circumstances. Either way XMO travels the mission is always a memory that will last forever!!!
Licensed and Insured, References can be given, Safe Mariner Operations, Experienced and Proven, Affordable Rates, Beautiful Scenery, Top of the line Equipment.
Guide Services:
Includes:
Fishing tackle, rods, and bait *(broken rod fee of $50)
Coaching, teaching. and consultations
Life Jackets, First Aid Kit, GPS
Cell phone charging
Pricing:
Please visit our web site for current pricing.
What to Bring
Snacks or beverages of your choice
(REQUIRED) Valid Fishing License
A cooler for fillets, sunscreen, bug repellent, and proper apparel (raingear)
You are welcome to bring your fishing rods, tackle, and baits if you choose to
PLEASE NOTE: Rates subject to change without notice.
Waters Guided
Mississippi River Pool 10, Grant County
Mississippi River Pool 8, Vernon County
Mississippi River Pool 9, Crawford County
Wisconsin River
Fish Targeted
Channel Catfish
Largemouth Bass
Northern Pike
Panfish
Smallmouth Bass
Walleye
Yellow Perch