Wisconsin Northland Adventures Guide Service
SHARE THIS PAGE
7595 W.Pine Point Road
Hayward, WI 54843
(715) 462-3847 / (715) 462-9402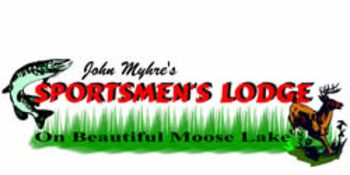 Sportsmen's Lodge is a small, comfortable "4 Season" resort deep in the hear of the Chequamegon National Forest where you can really get away to the outdoors!!
Sportsmen's Lodge is a great place to get away from it all!!!
With many lakes and rivers and thousands of acres of public lands, Northwest Wisconsin is a great place to enjoy outdoor activities either by yourself or with the family. And with that much water and land finding a place all to yourself isn't all that hard to do. Located within the Chequamegon National Forest you will find the Sportsmen's Lodge Resort on Moose lake.
A true paradise where you can enjoy it all! In the summer there's things for the family to do like fishing, hiking, biking, canoeing, boating, and more, then spring and fall there's great fishing too and hunting, or just being in the outdoors.
About Sportsmen's Lodge
Sportsmen's Lodge has for nearly 60 years served the sportsman and their families. Since my early days on Moose lake, which was 26 years ago now, I've guided many of the guests at Sportsmen's Lodge and now myself and my wife Linda are in our 11th season as your hosts at Sportsmen's.
In todays ever and fast changing world, one place where little has changed over several decades is Sportsmen's lodge.
It's always been a quiet and peaceful place where you can enjoy the northwoods outdoors where time almost stands still! That's the way it's always been and we would like to invite you to be our guests in continuing that tradition at the Sportsmen's Lodge in one of our immaculately clean, comfortably furnished cottages featuring porches where you can enjoy your evening meal or just enjoy the atmosphere of the northwoods and what makes this place and area so special to us.
Our cabins are now open year round and are equipped with new bunk beds that feature a comfortable full size lower bunk for 1 or 2 people and a single upper, so we can accommodate larger families or groups. The cabins are equipped with kitchen and bath facilities and all cooking utensils, microwave oven, and linens, except towels, are furnished as well as a boat and motor in a covered boat dock all included in the rental rate.
There are 2 outdoor campfire pits for evening campfires, charcoal barbecue grills, gas grills, and smoker grills, and a large grounds, and yard for you and the kids to relax, play, and enjoy. While we do not have a beach at the lodge, there is great fishing right off our docks and there are beaches and places to swim close by on the lake. We have the lodge and office open for snacks, pop, and some bait and tackle. Then if you do want to go out for a meal, there are several restaurants and places that serve food and drink close by within a couple of miles.
Here's What's New This Year!

This year we added a large Vacation Home to our available rentals!!!!
New last year we added an 18 foot fully equipped fishing pontoon to our rental fleet.
New last year! We added wireless internet at the resort
We also have a wireless cell phone amplifier in the lodge for our guests convenience!
New in the last few years! Lots of changes to better serve our guests.
New this last year we have some rental mountain bikes too.
In the last couple years we have redone the interiors and porches of both 2 bedroom cabins. On the inside we've added some real knotty pine paneling and done some redecorating. We've installed aluminum combination windows all around the porches. So now you can either open them up to enjoy the northwoods air or you can close them on the cooler nights and in the spring or fall. In effect this just makes the cabins bigger and gives you more living space. We have also resided the outside of them and they look like new. Also we have added 13" color TV's in them. All cabins now have color TVs.
Other things that are new over the last few seasons.

Ask about our newer log sided Northwoods cabin which we built. It was a big hit with our guests this last few seasons and did book up fast, so get your reservations in early. It will accommodate a family or 6 to 8 people.
We've also added a nice new big swing set with a slide and Jungle Gym.
Also, over the last few years, we've remodeled the kitchens in our other cabins with new countertops, stainless steel sinks, and ranges with ovens.
We also have a small lodge where we have pop, snacks, candy, and a good selection of selected tackle and some live bait.
What I've tried to do with the tackle is stock the things I know as a guide here for over 20 years that are productive for Moose lake and the Chippewa river which should make it easier for you as a guest here to catch more fish and enjoy your stay even more. Also the new lodge is a great place to have get togethers or seminars or just to talk and orient our guests to the area and where to go and what to do.
We also offer canoe, kayak, and boat rentals (click here) and transportation for river float trips and to some of the nearby waters. As a complete outfitter we can set you up on canoe trips of various lengths and even help you plan an overnight canoe trip if you prefer to "rough it" a little more.
The Fishing at Sportsmen's Lodge
MUSKY FISHING
- Moose lake has a 40 inch minimum size limit and like many other lakes close by, it is getting better every year in the size fish we see caught. More 40 inch plus fish being caught now than anytime before. The whole Hayward area is known for it's great musky fishing and has many lakes, many close by Sportsmen's, to choose from as well.
WALLEYE FISHING - Moose lake is also a good walleye fishery! It has a self sustaining walleye population with good reproduction. Because of that there are lots of smaller walleyes with fish all the way up to 10 pounds or more present. With no size limit and a 5 fish bag limit even on those days when the larger walleyes don't bite you can usually catch some of the smaller ones to have a good fish fry.
PANFISHING - Moose lake has a good population of perch, bluegills, and it is well known for it's Crappie fishing. Black Crappies run big here too! Crappies in the 12 inch range are the norm but fish running 14, 16, and even 17 inches are often caught by our guests.
FLY FISHING - Along with fishing with conventional casting and spinning tackle our waters have areas that are perfect for the shallow water fly angler too. The West Fork of the Chippewa right up from our docks provides some great fly fishing for musky and smallmouth. All the wild rice fields and shallow water are ideally suited to the fly angler and have many times been featured on national television fishing shows highlighting the fly fishing there. You can also find many back bays, shallow weeds, shallow rock bars, and other productive areas on Moose lake as well where fly presentations are productive.
BASS FISHING - One of Northwest Wisconsin's most overlooked fisheries is it's bass fishing, both largemouth and smallmouth, and it just keeps getting better!
Many of our area lakes provide as good of bassin' as you'll find anywhere and when it comes to smallmouth bass we have a lot of waters that would rank world class smallie fisheries. Every year we catch lots of them from 17 to over 20 inches from many area lakes, and we have guests right here at our resort report catching Smallmouth up to 23 inches long every year! Some of the very best Smallmouth fishing on Moose lake is but a stones throw from our docks and in the river just up from the resort.
Also don't overlook the Largemouth fishing in the area! It too is nothing short of spectacular! Some of the lakes I regularly fish for them we catch 30 to 50 or more Largemouth a day running from 14 up to 18 and even some 20 inchers.
Whether you fish largemouth on Moose lake or a secluded lake in the Chequamegon National Forest or smallmouth on the Chippewa river, I guarantee you'll come back for more.
If you enjoy catching fish and bass fishing you will have a great time here in our area!
PLEASE NOTE: Rates subject to change without notice.