Winke Guide Service
SHARE THIS PAGE
106 N. Hidden Beach Rd
Marblehead, OH 43440
(419) 250-2272
(800) 274-9255 - toll free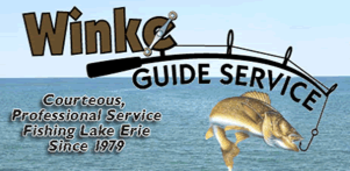 Welcome to Winke Guide Service!
If you are looking for a professional charter and guide service, then look no further!
Full Time Summer and Winter Guide Service!
Meet The Captain
Captain Pat Winke is a life long resident of Port Clinton, Ohio, fishing the waters of Lake Erie as a child and turned his passion into a full time career. Fishing Lake Erie since 1963, Pat has been a professional guide since 1979. Years of experience gives Pat the knowledge and expertise to provide an exciting experience for both new comers and the veteran fisherman who want to fish Lake Erie. We are a true full time guide service that offers both sport fishing charters and Lake Erie Ice Fishing Adventures. With years of experience, we will work to provide you with the best Walleye, Perch and Smallmouth Bass charter fishing on Lake Erie. Simply put, we want you to CATCH FISH, HAVE FUN and share in your personal enjoyment on Lake Erie!
The seasonal movements and migration behavior of Walleye, along with weather and lake conditions presents a challenge to every angler. Knowing when and where to be, presenting the right technique for the season and the weather conditions are the keys to success. We follow the many schools of Walleye from the Michigan and Canadian borders as they migrate across the western and central basins of Lake Erie.
With our centrally located dock, we are within 2 miles of Lake Erie's shoals and reefs and 3 miles form the wind-sheltered Bass Islands.
Fishing Canadian Waters
If the "Bite" is in Canadian waters, we are just 8 miles from the Canada/US Border. When fishing Canadian waters, an Ontario fishing license is required. See Canadian License Link on our Fishing Licenses page. Note: You do not need a passport to fish Canadian waters.
The Boat
You'll fish abaord a spacious 30 foot Sportcraft that was made for the challenges of Lake Erie fishing charters. Sportcraft boats are know for their fast and efficient seaworthiness. on Lake Erie. The "Limit Out" sports state-of-the-art electronics and top notch fishing equipment. Our goal is to ensure a fun, safe and productive fishing trip with 100% customer satisfaction!!
When choosing your charter fishing trip, the boat is an important consideration.
Boat Specifications:
Overall lenght 30ft. - 10ft. beam
Powered by 454 HP Mercruiser
Fully Licensed and insured
Sophisticated, mordern electronics
Comfortable and spacious open fishing area

Padded rails on the gunnels
Walk-around cabin
Private restrooms
Ultimate Charter Fishing Boat
Charters Include:
Top Quality Rods & Reels
Bait and Terminal Tackle
Lures, Casting harnesses, and Bottom Bouncers
Ice

On Board Coolers For Your Fish
First Aid Equipment
Advice on Lure Presentation and Fishing Techniques
Experience and Knowledge to Make Your Fishing Trip Exciting and Memorable!
Walleye Fishing On Lake Erie
The Season starts early on the Lake's Western Basin. Walleyes are typically found in small, tight schools at this time, so the action can be fast. From late March throughout April the beaches and shallow reefs become action points as large schools of male and post-spawn female Walleye cruise the shallow, sandy bottoms looking for bait fish. Casting or jigging bright-colored minnow-tipped jigs is a favorite method to catch a limit of some of the year's nicest fish. Late April to early May sends Walleye into deeper water where the feed actively to replenish energy used in spawning.
Smallmouth Bass Fishing on Lake Erie
Western Lake Erie - with it's Islands, many reefs and limestone structures - make it a bronzeback HOT SPOT. By late April, as water temperatures climb into the high 40 F. range, Smallmouth are caught on hair jigs, where the deeper water approaches the rocky shoreline and points. Lake wide, Bass tend to spawn in Mid-May as water temperatures near 52 - 53 degrees. June offers superb Bass fishing as they move back out to deeper reefs and humps, where crank baits and live biat tactics take over. Soft craws, emerald shiners and leeches work best.
Anchoring on drop-offs with irregular bottom sturture will usually bring god action. Drifting over structure, fishing a few feet up from bottom is also good. With July and August being good Bass fishing in the summer months. September and October is the peak for those larger Wall Hanger Bass. A 2-4 pound average of fighting Bass is common. Fishing for Smallmouth Bass has quadrupled over the past ten years. Ohio fishery biologists report that Erie experienced perhaps it's largest ever Smallmouth hatch in 1992. Clearing water, caused in part by the zebra mussels, semms to be benefiting sight - feeding species like Smallmouth. With increased survival rates of young Bass and a growing catch and release ethic among anglers, Smallmouth populations have skyrocketed, promising super Bass fishing for future years.
Ice Fishing Adventures
Lake Erie Ice Fishing is a popular winter sport that's more comfortable than you may think. If you haven't tried it, this is a winter adventure you should experience.
We will spend time with our clients instructing them on the best techniques for catching fish. If catching is difficult or if large schools of fish are not evident, I will set off to try to locate fish. In locating a more productive area, we will move and set up in an new target area. Our clients safety and finding active fish are our top priority.
We communicate daily with other guides, local fishermen and area bait shops to keep you on the hottest bite and in the best providing areas for Walleye and Perch!
Ice Fishing Charters include:
2 and 3 Man Heated Shanties
Rods, Reels and Gaffs
Bait and Terminal Tackle

Fish Finder, Electronics, GPS and Marine Radio
Transportation ON and OFF the ice
DEPARTURE POINTS:
Catawba Island
Marblehead
Port Clinton
Camp Perry
Crane Creek
Departure locations will vary with weather conditions. Contact us the day before your Ice Fishing Trip for your departure location.
PLEASE NOTE: Rates subject to change without notice.