Watersmeet Chamber of Commerce
SHARE THIS PAGE
P.O. Box 593
Watersmeet, MI 49969
(906) 358-9961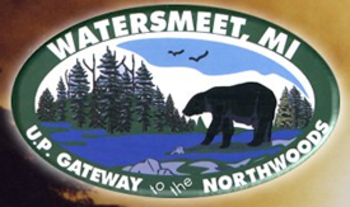 Welcome to Watersmeet Michigan.....
Watersmeet Michigan welcomes you to year-round vacation enjoyment. From Watersmeet, the Ontonagon River flows north into Lake Superior. The Wisconsin River flows south into the Mississippi River, and the Paint River flows east into Lake Michigan. This is "where the waters meet"!
This "Water Wonderland" includes 302 lakes and 241 miles of trout streams. Excellent resort and motel accommodations provide both anglers and families the opportunity for summer fun.
Enjoy our spring-fed lakes, meandering streams and rivers, and even our secluded waterfalls. You can experience the forest areas with the abundance of animals and birds. Bring cameras to record the beauty of the area along with the experience of seeing the many birds, fantastic loons, and eagles soaring as well as all the wildlife animals in their natural setting.
The famous "Cisco Chain" with its 15 lakes and over 271 miles of shoreline and "Lac Vieux Desert" with its 4,200 acres of boundary water and headwaters of the Wisconsin River, are home to many fish species including panfish, crappie, walleye, bass, northern pike and muskie. In fact, our area waters boast both state and world records for tiger musky!
Nature has smiled on this area of Michigan's Upper Peninsula with its beautiful forests of spruce, balsam, maple, birch, and aspen. Your stay here will be highlighted by sightings of white tail deer, American bald eagles, loons, black, bear, coyotes, and even illusive timber wolves and moose.
While visiting, explore the 21,000 acres of virgin forest in the Sylvania Wilderness Area which is within 1 million-plus acres of the Ottawa National Forest. State and Federal lands provide excellent small game, waterfowl, and trophy deer hunting, making our area a top choice for bow and gun hunters.
As a "Winter Wonderland", Watersmeet is gateway to the north's Big Snow Country. We have professionally groomed cross country and snowmobile trails, along with fine winter lodging and dining. No matter what your tastes, whether they be outdoor sports and wildlife, family vacations, or solitude.
FOUR SEASON'S ADVENTURES
All types of fishing in numerous lakes with boat and motor rental available. Snowmobiling on groomed trails with snowmobile rental available. Excellent groomed cross-country and downhill skiing with rentals, shops and casino nearby. Excellent hunting for all types of game. The hiker can experience the forest areas with the abundance of animals and birds. Bring cameras to record the beauty of the area along with the experience of seeing the many birds and eagles soaring and the animals in their natural setting.
Snowmobiling
Winter snowmobiling excitement runs rampant throughout our area. Hundreds of lakes and acres of state and national forest lands provide a winter wonderland for enthusiastic riders.
Watersmeet and Land O'Lakes, located on the border of Wisconsin and Michigan's Upper Peninsula provides an excellent home base for your winter excursions. Trails to the north connect with the serene trail network of the Upper Peninsula. Corridor 6 guides riders across the northern section at the eastern border, through Land O'Lakes as it continues on to Presque Isle.
Watersmeet is the gateway to snowmobiling in the Upper Peninsula with access to Minnesota, Lower Michigan and Wisconsin. The Upper Peninsula of Michigan has a reputation for an extensive groomed snowmobile trail network, exciting terrain, and an abundance of snow. In the entire State of Michigan there are over 5,800 miles of snowmobile trails located throughout six state Forest, three National Forests and many acres of privately owned lands. About 230 miles are located in the Ottawa National Forest. Yearly Michigan trail permits are required.
Hunting
The Ottawa National Forest Offers hundreds of thousands acres for a variety of hunting opportunities ranging from small game to large animals. A valid Michigan State hunting license is required. Be sure to acquaint yourself of the State seasons, regulations and any other federal rules that may apply to a specific area you will be visiting.
ATVing
The Watersmeet Chamber of Commerce invites you to visit our beautiful area for your next ATV/UTV trip. Our east/west trail connects with the Marenisco and Iron River trails. It's wide and in great shape since it serves as one of our winter snowmobile trails.
The Forest Service trails also cover the whole township of Watersmeet. Travel through our beautiful forests, over wooden bridges, and past all kinds of waters. Enjoy the colorful northwoods with its awesome scenery and abundance of wildlife. Many trails are not limited to 50" wide vehicles.
Mountain Biking
A wide variety of opportunities ranging from well maintained and signed loops to more challenging cross-country travel await the mountain bike enthusiasts. Besides wilderness and specifically designated hiker only trails, the entire Forest is open to mountain bikers.
Hiking
Hiking trails in the Ottawa National Forest offer something to everyone. More than 196 miles of hiking and backpacking trails vary widely in character. Some trails provide short, easy walks to a point of interest such as waterfalls or historic sites. Cross-country travel is also another challenging opportunity that is offered
Canoeing and Kayaking
Over 500 lakes and 1,800 miles of streams await water travelers. Ottawa National Forest Lakes range from remote areas with difficult access to developed boat launches with parking areas. Sylvania Wilderness is a popular canoeing area; however, special rules, regulations and fees apply.
Fishing
Over 500 names lakes and 2,000 miles of river and stream await the angler in the Ottawa National Forest. Access to the fishing waters can vary from a paved boat ramp and parking lot to an undeveloped trail. Generally, spring and early summer are the best times for lake fishing. Late summer is somewhat slower with fall fishing somewhere in between. Check a Michigan DNR Fishing Guide for seasons and regulations.
Camping
Twenty-seven developed campgrounds offer a wide spectrum of camping experiences. All are accessible by road and service both tent and trailer campers. Most campgrounds are located on lakes or streams and offer fishing, swimming, and other opportunities.
Nightly fees that usually range from $5 to $8 is charged at most campgrounds. some campgrounds are available free of charge. The Forest Department Visitor Center Staff can provide information that contains fee schedules, site information, location, and development level of each area.
Most campgrounds are scheduled to open by May 15th annually with some exceptions. Most campgrounds close their service season after Labor Day although some remain open into the fall to accommodate hunters. During the fall season fees usually are not assessed and services such as garbage pick up and well water are not PROVIDED.
Horseback Riding
One million acres of the Ottawa provides a wide variety of equestrian opportunities ranging from well maintained and signed roads to cross-country travel. Besides Sylvania Wilderness and hiker only trails, the forest is open for horse travel. There are areas suitable for camping with horses; however, horse camping is not permitted in developed campgrounds. Because of limited request and use, the Ottawa National Forest does not have specific printed materials or developed areas for riders.
The best way to plan for a trip in the Forest is to decide on a general geographic location and contact the nearest Forest Service Office to discuss options and recommended areas.
Designated equestrian trails await your arrival on the Chequamegon/Nicolet National Forest located in Wisconsin just south of the Ottawa. Two of the trails are located in the Eagle River District of the Nicolet. Trails and a designated horse campground are available in the Chequamegon.
Cross-Country Skiing
The Ottawa national Forest is host to a variety of cross-country skiing opportunities. There are over 90 miles of ski trails located throughout the area with over half of the miles groomed. Trails range in difficulty from beginner to expert.
Downhill Skiing
Winter sport enthusiasts are attracted to the Upper Peninsula for its abundance of downhill ski areas. In the Watersmeet area downhill ski areas are located in Ironwood, Iron River, Ontonagon and Iron Mountain.
Snowshoeing
Picture yourself on a snowshoe adventure breaking trail in the peaceful, serene woods. Snowshoers do not require trails and have the freedom to travel anywhere.
PLEASE NOTE: Rates subject to change without notice.