Turtle Flambeau Flowage Association
SHARE THIS PAGE

Mercer, WI 54547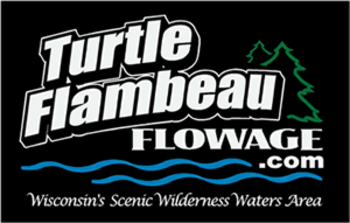 Turtle Flambeau Flowage Association
The Turtle Flambeau Scenic Wilderness Waters Area and Trude Lake is comprised of nearly 19,000 acres of water and 35,500 acres of public land for you to use and enjoy throughout the year. Unlike Canada, there is no passport required. Unlike Minnesota's Boundary Waters, there are no permits required.
How to Find Us
The Turtle Flambeau Flowage is located between the towns of Mercer, in Iron County, and Park Falls, in Price County. The Flowage is about 375 miles from Chicago, 300 miles from Milwaukee, and 275 miles from Minneapolis. It is easily accessible from either U.S. Highway 51 in Mercer via County Highway FF or U.S. Highway 13 in Park Falls/Butternut via County Highway F.
Click here to view a map of the area.
Outstanding Area for Nature Lovers
In 1992, Wisconsin Governor Tommy Thompson officially recognized what many already knew of the Turtle Flambeau Flowage when he designated it as a protected wilderness area, securing its rugged beauty and unspoiled wild character for generations to come.
The Flowage is truly a water wonderland, offering countless opportunities for outdoor adventure. The Turtle Flambeau Flowage is a natural choice for outdoor living, with accommodations for any style of "roughing it".
Contact us to request a map; our contact information is at the top of this page.
Hunting
The Turtle Flambeau Scenic Waters Area encompasses approximately 35,000 acres of public land. The diverse topography, vegetative cover and water resources of the Turtle-Flambeau Scenic Waters Area offer a wide variety of hunting and trapping opportunities. Deer, bear, ruffed grouse, woodcock, turkey, snowshoe hare, raccoon, coyote, bobcat, red fox, mink, beaver, otter, fisher, muskrat, and a variety of waterfowl call the area home.
The property includes two special wildlife management units. There are twenty-four miles of designated hunter walking trails at four locations. Trails are mowed approximately once every two years to maintain the grass and clover for wildlife and to provide hunter access
Fishing
The Flowage provides the ultimate north woods fishing experience. It supports a diversified fishery including walleye, muskellunge, smallmouth and largemouth bass, crappie, perch and bluegill.
The Flowage is best known for its superb walleye fishery. Walleye are by far the most abundant gamefish and provide the majority of sport fish harvest. The abundance of catchable size walleye is outstanding.
Crappie have proven to provide some exceptional panfishing during the early summer, fall and through the ice. Jumbo perch and big bluegills provide action year' round.
Ice fish where the locals choose to set up their ice shacks to jig and tip-up fish for walleye, bass, perch, crappies and gills. Conditions are typically good for foot traffic by mid-December while those preferring to travel via motorized vehicle should wait until January. The annual Claus Kratke Memorial Ice Fishing Jamboree is held the last Saturday in February.
Other Activities
Although the region is often thought of as a sportsman's paradise, the area also offers other outdoor recreational opportunities including: ATV & UTV riding, snowmobiling, boating, canoeing & kayaking, hiking, biking, birding & wildlife viewing, cross-country skiing & snowshoeing and auto & motorcycle tour routes. The business community surrounding the Turtle Flambeau Flowage can provide lodging, dining and limited services to area visitors. The communities of Mercer and Park Falls, both located within a scenic 20 minute drive, provide additional services to area visitors.
PLEASE NOTE: Rates subject to change without notice.