Snug Harbor Inn
SHARE THIS PAGE
1627 Memorial Drive
Sturgeon Bay, WI 54235
(920) 743-2337
(800) 231-5767 - toll free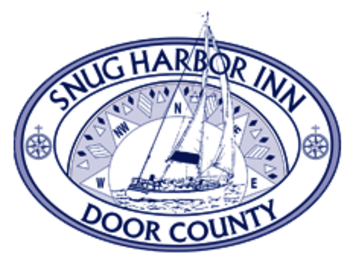 Sturgeon Bay, Door County. SNUG HARBOR INN, closest lodging/docking to lake Michigan in the Sturgeon Bay area. Closet docking to the famous Bank Reef, or go towards Green Bay and fish Larson's reef or the flats. Don't spend all your time at the boat ramp, dock and fish from Snug Harbor Inn.
WE ALSO RENT BOATS! On site fish cleaning and freezing. Charters available for Salmon, Trout, Bass, Northern, Walleye and Muskie. Dock at your Door step and take advantage of Wisconsin's best combined fishery, or stay at our sister resort located right on the flats! We have Motel rooms with kitchens, cottages and luxury suites with hot tubs and fireplaces, all waterfront. Bring your boat and the love of your life. We not only have the best fishing in Wisconsin but the number one vacation spot as well. Let us help you plan the ultimate Door County fishing/vacation experience!
Call and ask for Jon at 920-559-2628 (cell) for details or call 1-800-231-5767 for reservations.
Suites...
Suite 201
Blue and white lace room with queen canopy bed. Oversized whirlpool overlooking Sturgeon Bay waters. Fireplace, wet bar, microwave, refrigerator, cable TV, VCR, spiral stairway to loft with a full size bed. Romantic upper and lower private outside balconies.
Suite 202
Tan and burgundy, elegant decor. Private bedroom with queen four poster bed, cable TV, VCR, and oversized whirlpool overlooking Sturgeon Bay waters. Fireplace viewing from whirlpool, bed, living room/kitchen. Private balcony, spiral stairway to upper sitting guest room. This suite has two sofa sleepers and private balcony.
Suite 203
Victorian with private bedroom featuring a tall queen bed, cable TV, VCR, fireplace and large two person whirlpool overlooking Sturgeon Bay waters. Living room with cable TV, sleeper sofa and French doors going out onto a private balcony. Full kitchen. Small lookout room above suite accessible by a spiral stairway off the living room. This suite has two sleeper sofas and another outside balcony.
Suite 204
Hunter green, cream, and plum one room suite with a circular stairway leading up to a small lookout room with a sleeper sofa and private deck overlooking the beautiful waters of Sturgeon Bay. Full kitchen, Queen bed, full bath, TV and VCR. Large deck across main level of suite. Large whirlpool next to bed surrounded in windows and in view of lovely fireplace.
Cottages...
Snug Harbor Two Unit Cottage
1: Two bedroom w/whirlpool & fireplace Full kitchen with dishwasher. Bath - living room with hide a bed, cable TV and VCR, could adjoin Room 1A.
1A: Room with two beds Fireplace & whirlpool, refrigerator, microwave, cable TV, VCR, full bath, can adjoin with cottage 1.
Two Bedroom Cottage with fireplace
2 bedrooms with a full size bed in each room. Living room with a full-sized sleeper sofa, fireplace, cable TV and VCR. Full bath and full kitchen with dishwasher.
Snug Harbor Luxury Cottage
One room cottage with double whirlpool nestled into an archway next to the bed. Sitting area with fireplace, fully equipped kitchen, bath with shower, cable TV, VCR and a view!
Sunset Cliff Cottage
Located 15 minutes west of Sturgeon Bay on the Bay. Private cottage with all the amenities of home and more. Cottage sets 6 feet off ledge, with stairs to the water and dock fire ring and charcoal grill on this beautiful lot. Oh, what a view... What sunsets!
Little Harbor Cottages
These cottages are 7 miles north of Sturgeon Bay . You'll feel like you're miles away, yet you're close to all Door County has to offer you. You'll enjoy use of a shared dock, rowboat and paddleboat as well as the beautiful sunset views.
Motel...
Basic Room
(not waterside)
Parking in front of room, one queen bed, bath refrigerator, cable TV, Can adjoin with deluxe room.
Basic Room (Sturgeon Bay waterside)
One queen bed, bath, refrigerator, cable TV. Can adjoin with deluxe room.
Deluxe Room (Sturgeon Bay waterside)
Large room, 2 full or queen beds, kitchen, can adjoin one or two of the basic, small rooms. Cable TV, VCR.
Rentals & Tours...
We offer:
Pontoon Rentals
Fishing Boat Rentals
Runabout Rentals
Canoe Rentals
Sailboat Rentals
Bike Rentals
Harbor Tours
Water Ski Charters
Deposit required - Gas and damages extra - Pulling or towing not allowed with rentals - Off-site rental available - Multi-day special rate - Operation instruction - Must be 18 years of age to rent - Tours, fishing and Water Ski Charters available.
You do not need to be a Snug Harbor or Beach Harbor Resort guest to rent boats
PLEASE NOTE: Rates subject to change without notice.