R&R Sports Fishin Hole
SHARE THIS PAGE
3115 East Layton Avenue
Cudahy, WI 53110
(414) 481-6888 / (414) 481-9090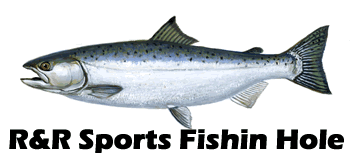 R&R Sports Fishin' Hole:
Your Top Choice for all your fishing/boating needs
R&R Sports Fishin' Hole is not your average fishing tackle store!
We are located in Cudahy, WI, a hop, skip, and jump away from Lake Michigan. We carry all the the unique rods, reels, lures, line and terminal tackle that you can't find anywhere else. The Fishin' Hole is also a Lowe boat and Mercury motor dealer. We have a mechanic on hand for all your boat repairs and maintenace needs.
We have everything you need to catch more fish!?
About Our Store
As Cudahy's top retailer of fishing tackle, we can offer you the best price on a broad range of fishing and marine products. Our enthusiastic and well-trained staff is available to assist you no matter what kind of fishing you have in mind. Can't find what you want? We'll stop what we are doing and place a special order for the item you're after.
We stand behind our products because we use them too. Like you, we want fishing tackle and accessories we can rely on when fishing from shore or from a boat. That's why we're the best place in town to come to for advice - from one fisherman to another.
Company History
R&R Sports Fishin' Hole has been in business for over three decades. We have evolved from a small ma and pa store to a full-service fishing tackle/marine retailer. We have been Cudahy's favorite source for all your fishing needs since we first opened our doors.
Products
R&R has a big selection of Lake Michigan Salmon and Trout tackle.
We carry the largest selection of Berkley Gulp in Wisconsin.
Some of our product brands include: Shimano, Diawa, Okuma, Berkley, Frabill, St. Croix, Jiffy, Hummingbird, Mercury, Lowe, Johnson Evinrude. Just to name a few! Our lure and terminal tackle selection also has numerous different brands. We have a large selection of bulk line that we will gladly spool your reels with as you wait.
Your Fishing gear should not only perform when put to the test - it should be a reflection of your personality. That's why we carry a wide range of Fishing tackle and marine accessories to fit your unique sense of style.
What we have to offer
No matter what your favorite type of fishing is, chances are we carry what you're after. From rods and reels to boats and everything inbetween, we offer quality tackle and equipment at affordable prices. We also carry the hard to find stuff the others do not stock!
Check out our selection of:
All types Rods/Reels
Terminal tackle
Berkley Gulp
Berkley Powerbait
Various soft baits
Ice fishing lures
Lake Michigan Tackle
Fly fishing tackle
High end/quality baits
Numerous fishing lures
If there's something you are looking for and we do not have it in the store, we will gladly order it for you if our distributors carry it.
We also carry live bait. Depending on the time of year we carry all of the following:
Night Crawlers
Leaf worms
Wax Worms
Spikes
Spawn Sacs
Skein
Crabtails
Leehes
Golden Shiners
Services
In addition to our broad selection of products, we are also your source for personal assistance, tips on how to get the most usage out of your fishing equiptment, repairs on motors and boats, regular maintenance of your motor and boat, and installation of various marine accessories for your boat, and a wide range of instructional classes.
Make R&R Sports Fishin' Hole your one-stop shop for all your Fishing/Boating needs.
Learn more about our services:
Minn Kota Trolling Motor Repair
Repairs and Maintenance
Classes and Events
Marine Accessories
Get the maximum of enjoyment from the time you spend outdoors by shopping at R&R Sports Fishin' Hole, where you'll find products for any kind of fishing or boating.
Check out our selection of:
Fishfinders/locators
Marine radios
Boat Accessories
Anchors
Trailer accessories
Oils/Gear lube,etc.
Boat cleaning supplies
Essentials for USCG standards!
Stop by and check us out today!
PLEASE NOTE: Rates subject to change without notice.