Rock River Bait Box
SHARE THIS PAGE
N2290 Rock River Rd
Fort Atkinson, WI 53538
(920) 691-2602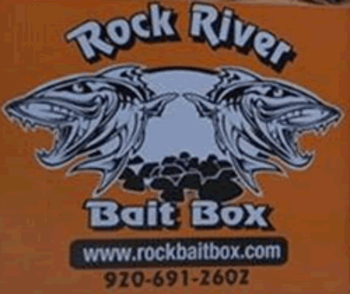 Why Choose Us?
Rock River Bait Box is a family owned business that prides itself on the customer experience. We carry various types of live bait and equipment for your everyday fisherman. We have in stock ice, soda,snacks and all of your gear. Our goal is to provide convenience and a great price from one fisherman to another.
If you can't find what you want we can place a special order for the item you're looking for. Just like you, we want fishing tackle and accessories we can rely on when fishing without paying the big box store prices.
Our Team
Our staff is comprised of seasoned fisherman and students from the Fort Atkinson area. We have grown up fishing the Rock River and Lake Koshkonong waters. Our staff is well-trained to assist you with whatever kind of fishing you have in mind.
Rods and Reels
St. Croix
Fenwick
Berkley
Shimano

Okuma
Daiwa
Pflueger
Abu Garcia
Live Bait
Crappie
Night Crawlers
Nitro Worms
Smelt (seasonal)
Red Worms
Leaf Worms
Wax Worms

Spikes
Mousies
Leaches
Helgrammites
Wigglers
Fat Heads(lg & jumbo)
Come and see for yourself what we have to offer. Rock River Bait Box is the place you will enter just as a customer but leave as a friend.
Hours of Operation
OPEN 7 DAY A WEEK
5:30 a.m. to 6:00 p.m.
PLEASE NOTE: Rates subject to change without notice.