Richter Anchors
SHARE THIS PAGE
811 Cattail Court
Plymouth, WI 53073
(920) 893-2900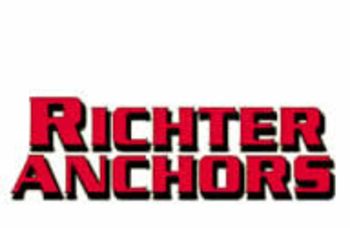 The Richter Anchor
The Richter Anchor design came into existence around 5 years ago with a design to fit our needs while angling for walleye in northern Wisconsin. Friends and relatives insisted on having us make anchors for them, because they out performed any other design at the same weight and Richter Anchors was born.
The Richter Anchor design has an aggressive fluke pattern, and centered weight with the addition of a release bar that makes the anchor near 100% retrievable. The Richter Anchor has been shown to maintain a good hold with a 3:1 scope, often even less anchor line. Standard designs do not have the holding power of the Richter Anchor. The Richter Anchor has been tested by countless tournament fishermen, and compared to other "specialty" anchors that claim to be the best, the Richter Anchor is continuously preferred for reliability in varied bottoms and water conditions.
Richter Anchors recommends:
18 lb. Anchor for boats up to 20 ft.
25 lb. Anchor for boats up to 30 ft.
Using Unicord; 3/8 nylon rebraid anchor line with a thimble. Connect the anchor ring and thimble with a 5/16" connect link and nut.
Consider using 2'-4' ft. of chain on rough water.
Lowering...
Just lower a Richter Anchor off the stern or bow.
Holding...
Set your line in at a 30°-40° angle or a 3 to 1 scope. Use extra line in rough water or current.
Retrieving...
Position the boat over the Anchor or just past vertical, to allow the line to follow the release bar to base.
The Kwik-Grip
The Kwik-Grip is a new, innovative and safe way to secure your rope lines. Works with any rope up to 1/2 inch wide.
Self-Locking Cleat

New! Patented design reduces risk of horizontal release. Allows rope/strap inserting at any point
Fast! Just pull the rope to lock
Simple! Self-locking design
Safe! A quick tug and load is secure.

Superior In Design

Cast from strong space age T-6061 aluminum alloy
Tough protective coating ensure long life and minimum wear
Mounted using two corrosion resistant #10 aircraft quality stainless steel screws

Quick To Lock, Quick To Release

Anchoring
Mooring
Drift Sock
PLEASE NOTE: Rates subject to change without notice.