Reel Sensation Charters
SHARE THIS PAGE
3899 E. Greenway Dr.
Oak Creek, WI 53154
(414) 384.8096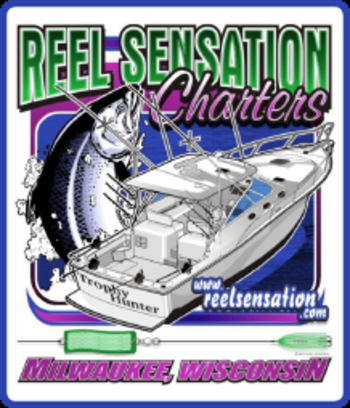 We Fish All Year Round!!
Lake Michigan is considered one of the world's finest fisheries. Milwaukee is also regarded as one of the top ports on the western side of the lake. Historically many of Wisconsin's state record fish have been caught here in Milwaukee. In the summer months we boast large catches of Chinook or "KING" salmon. Large numbers of these fish cruise the depths of Milwaukee's large basin, formed between Fox Point and Wind Point. In the winter months the Milwaukee area offers the best brown trout fishing on the lake.
The fishing here is very productive year round. We here at REEL SENSATION CHARTERS have put endless hours on the water in and around Milwaukee in order to feel confident that every time we leave the dock, we will catch fish. Aside from great fishing, Milwaukee offers great sight seeing, dining, and nightlife that is second to none. So� if you plan to spend a weekend with us, there is plenty to do.
The Boats
The "TROPHY HUNTER" is a true 33 foot Wellcraft Coastal. Because of it's wide beam, this boat is extremely stable in the water. What really makes this boat a fishing machine is the tremendous amount of deck space, even making larger boats seem cluttered. It is driven by twin 454 Mercury engines that put out an astounding 660 H.P. This boat is fast, which enables us to leave and return to the dock quickly and safely. NO WASTED "NON-FISHING" TIME! The "TROPHY HUNTER" has private toilet facilities for your comfort. This boat is used for groups up to six people during April - October.
The 19 Foot LUND, dubbed "BLACK JACK" is used during the times of year which are not accessible by our large boat (very early spring and very late fall). This boat is for groups of three or less during March - December.
What To Bring We will take care of everything you need for your trip. We are a full service charter. Navigation is taken seriously by the Captain and the equipment is furnished and set-up by the First Mate. At the end of your trip, the catch will be cleaned and bagged FOR YOU. All that is required is a Wisconsin Fishing License with a valid Trout Stamp. You can purchase those from us as well!
Other Things You May Want To Bring:
Comfortable Clothes
A Camera
Sunglasses
A Personal Cooler - To Take Home Your Catch!
Any Food or Beverages (No Glass Bottles Please) - Alcohol is Allowed, But Please Be Responsible! Excessive Drunkenness Will Not Be Tolerated!
Rates We are a Full Service Charter, All Tackle is Provided! The Rates are for the Entire Boat. Trip Times are from Dock to Dock. Each person is required to hold a Wisconsin Fishing License and a Great Lakes Trout Stamp. Fishing Licenses and Great Lakes Trout Stamps Are Available on The Boat at an Additional Cost.
Rates for the 2009 Season on The 33 Foot Wellcraft Coastal "Trophy Hunter"
One - 5 Hour Charter (Morning or Afternoon)
$520.00
One - 6 Hour Charter (Morning or Afternoon)
$595.00
One - 8 Hour Charter (Morning or Afternoon)
$720.00
Rates for the 2009 Season on THE 19 FOOT LUND "BLACK JACK"
One - 5 Hour Charter (Morning or Afternoon)
Group of 1 Rate: $275
Group of 2 Rate: $325
Group of 3 Rate: $375
One - 8 Hour Charter (Morning or Afternoon)
Group of 1 Rate: $350
Group of 2 Rate: $400
Group of 3 Rate: $450
We Also Offer Fishing Packages - Visit Our Website For More Details
PLEASE NOTE: Rates subject to change without notice.