Obscure Adventures Guide Service
SHARE THIS PAGE
(414) 430-6841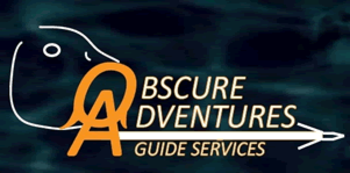 Welcome to Obscure Adventures Guide Services
Bowfishing in Wisconsin is not something that usually comes to mind when you think of angling adventures. However, many lakes throughout the state contain large populations of "rough" fish like common carp, gar and suckers. Here at Obscure Adventures we specialize in guiding clients to a truly unforgettable experience. Depending on the water we guide you on you may take so many shots that your arms get tired, or you may choose to shoot a lake with absolute giants. All of this will be done using industry leading equipment on our custom designed 20' dedicated bowfishing boat. Best of all, we take on this adventure at NIGHT!!
First time bowfishers will see lakes in a whole new light, literally, when they step onboard. Our LED lighting system silently illuminates the water allowing you to see target species, as well as so much more. Rather than hearing a generator humming you'll be able to speak normally (or shout with excitement).
When the water is clear, you'll see exactly what's down there in water as deep as 12' or more. Gamefish like Bass, Walleye, Muskie and Pike are very visible and the average daytime fisherman could learn a lot about the hotspots these fish frequent. However, when the first 20lb+ carp swims through the lights you may never pick up your fishing rods again!
Bowfishing is very family friendly and only requires the person to be able to pull a bow with a relatively light draw weight. NO PRIOR BOWHUNTING/SHOOTING EXPERIENCE IS NECESSARY! Adults over the age of 16 will need a valid Wisconsin fishing license. Come and experience Obscure Adventures with us and make memories that you'll remember for years to come.
About Us
Obscure Adventures is owned and operated by Pete Gregoire of Fredonia, WI. Pete is an avid bowhunter and fisherman, but when he took his first shot at a carp on Random Lake, WI his whole life changed. Bowfishing at night is the perfect fit for his lifestyle, allowing him to spend time with his wife Jody and his kids Logan and Allyson, as well as hold a full-time job with Time Warner Cable in Milwaukee, WI.
Pete graduated from Unity College in Maine with a Bachelors of Science degree in Fisheries Management. After 15 years with Time Warner developing his unrelated career, he was itching to get more involved with the outdoors. Pete is an active member of the Wisconsin Bowfishing Association (WBA) and is currently serving as an officer, as well as a member of the Bowfishing Association of America (BAA).
Currently Pete works with these associations to promote the benefits of bowfishing to the state's aquatic ecosystems. Carp are prolific spawners and eaters. Their feeding habits in the shallows are detrimental to water quality and clarity, as well as to game fish species. They will eat the eggs of other spawning game fish and the mud kicked up can cover and kill additional fish spawning areas.
CLICK HERE FOR CURRENT RATES!!!
We will provide
Top notch bows, reels and arrows from industry leading bowfishing manufacturers, however if you have your own setup you are more than welcome to use it.
A well-maintained boat with all mandated safety equipment including PFDs for every person
Professional USCG Captain licensing including First Aid and CPR certifications
Thorough instruction on the use of all gear including shooting practice prior to leaving the dock and additional coaching throughout the trip
Fish Disposal
Bug Spray
Digital pictures of your Obscure Adventures are included - Edited videos will be available for purchase a couple days after your trip
A night full of stories and facts about fish and bowfishing. We'll do our best to give you the information you need to be successful in any future fishing trips
What to bring
Fishing License
Warm Clothes
Rain Gear
Drinks & Snacks
Camera
Cooler
A Positive Attitude!
Seasons
It's a common misconception that carp and other species are only shallow during the spring months when they are spawning, but in the lakes we fish it's good from ice out to ice in. If the conditions allow we will start in April and finish in December.
PLEASE NOTE: Rates subject to change without notice.