Nick Nault's Guide Service
SHARE THIS PAGE
(920) 839-2272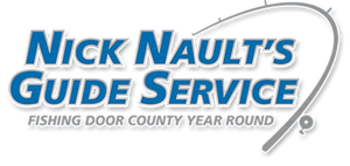 Fish Year Round in Door County
Nick Nault's Guide Service offers year round fishing opportunities in the fish rich waters of Door County. Nick's fished these waters his entire life and he's fished them professionally since 2005 guiding for walleye smallmouth bass, brown trout and perch on the Bay of Green Bay and as a Lake Michigan charter captain for salmon, steelhead, and lake trout. Nick's one on the industry's most successful fish catching guides and captains and that fish catching talent combined with his enthusiasm, outgoing personality and willingness to teach lets his customers enjoy the entire fishing experience and brings them back year after year.
Smallmouth Bass, Walleye, Brown Trout and Perch
Guided Fishing Trips
Our open water fishing begins shortly after ice out when we begin trolling and casting both the Lake Michigan and Green Bay sides of Door County for brown trout. These fish are caught in a wide range of sizes and several have been caught in recent years that have topped thirty pounds. Browns are typically caught during daylight hours and a trout trip is a great way to jump start your open water fishing season. The areas annual Brown Trout Tournament is held the third week in April. And if a trophy walleye is on your bucket list, a trip in the evening or after dark shortly after ice out is an excellent time to take one of the bruiser walleye�s that Door County is well known for.
We typically begin catching good quantities of post spawn walleyes in mid-May from the lower part of Green Bay. Later in the summer and fall we target trophy walleyes fishing sharp shoreline breaks and offshore reefs. We use a combination of trolling, jigging and casting techniques for all our walleye fishing.
Our smallmouth bass season opens the first Saturday in May and draws anglers nationwide due to the quality and quantity of the bass in these waters. Six pound smallies and twenty fish days are possible and five pound averages are often required to win tournaments. May and June is predominantly shallow water pre-spawn fishing. Later summer and fall we're fishing deeper water patterns. Our bass trips are basically catch and release.
Guided Rates
$400 plus tax 5 hour trip 1-2 people
$450 plus tax 5 hour trip 3 people
Ice Fishing
Ice fishing for whitefish is one of the most enjoyable and fastest growing segments of the fishing industry... and for good reason. They grow to over five pounds and 20 plus inches, put up a great fight, are excellent eating, have liberal bag limits, feed during daylight hours and once you learn the techniques they can be caught a variety of ways. The changing ecosystem of Lake Michigan has brought whitefish into the Bay of Green Bay in the winter in tremendous numbers and ice fishing for them is now an exciting and booming pastime.
Guided Whitefish Trips
Your day begins with a short ride from the Green Bay shoreline in a Yamaha Viking-6 to a pre-heated ice-house with bench seats and pre-drilled holes that�s ready and waiting for a day of comfortable fishing. Also waiting for you are rods, tackle, fishing gear and bait for the day. Your guide will spend time explaining and teaching the different whitefish techniques to insure your success.
Guided Rates: $100 per person, seven hours of fishing
Guided Walleye Ice Fishing
Ice fishing Green Bay walleyes is rarely about numbers but it offers anglers an exceptional opportunity for true trophy fish. They hit primarily at low light, generally the first and last hour of the day, and if you want to put a real bruiser "eye" on your wall, that's the time to be here. We offer guided walleye fishing in combination with whitefish or stand-alone guided walleye trips. Trips may be with or without houses depending on conditions.
Combination with guided whitefish: $150 per person
Stand-alone walleye trip: $75 per person
House Rental - Whitefish, Perch & Walleye
If you're an experienced fisherman, have your own fishing gear and want to fish comfortably in an active location, then renting one of our houses is a good option. We'll deliver you and your gear to a pre-heated house with bench seats and pre-drilled holes that's ready and waiting for you to start your fishing day.
House Rental Rates: $50 per person per 7 hour day
PLEASE NOTE: Rates subject to change without notice.
Waters Guided
Bay of Green Bay
Lake Michigan - Door County
Fish Targeted
Brown Trout
Chinook Salmon
Lake Trout
Rainbow Trout
Smallmouth Bass
Walleye
Whitefish
Yellow Perch