Mid-State Marine, Inc.
SHARE THIS PAGE
W913 State Road 110
Fremont, WI 54940
(920) 446-3399
(920) 446-3341 - fax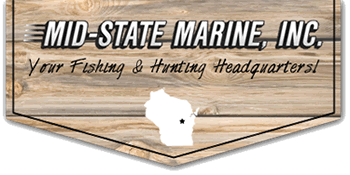 Where Quality Service is #1!
Mid-State Marine, Inc is a privately owned company that cares about its customers. Our team members pride themselves on giving our customers the best service possible. The owner and lead technician, Tom D'Amico, has been in the industry for over 20 years. It is that experience that puts the dealership above the rest for excellent service and parts knowledge. Our goal is not only to meet our customers expectations, but to exceed them. We will make every effort to build and maintain a good working relationship with our customers, not only today, but for tomorrow and into the future. Thank you to those customers who have helped us grow and who have helped put us where we are today.
Full Service Shop Specializing In:

Beavertail boats, blinds and engines
Bentley pontoons
Excel hunting and fishing boats
Lowe Boats
PSE Archery bows and supplies
Starcraft Boats

Mud Buddy motors
Yamaha and Mercury outboards
Inboard/Outdrive Rebuilding
New Inboard Engine Implants
Boat Repowering
Electronics Installation

We also service all other makes and models.
Winter Business Hours
Tuesday - Friday
9:00a.m. - 5:00 p.m.
Saturday
9:00a.m. - 2:00 p.m.
Sunday & Monday
Closed


*After hours by appointment, Please call.
PLEASE NOTE: Rates subject to change without notice.