Idle Hour Resort
SHARE THIS PAGE
N14516 Shady Knoll Road
Park Falls, WI 54552
(715) 762-3872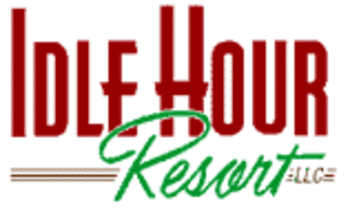 Idle Hour provides many ways to have fun and relax. Although fishing, water sports and snowmobiling are the resort's principal attractions, ATV riders, hiking enthusiasts, cross county skiers, mountain bikers and nature lovers will find many nearby picturesque trails and paths that feature frequent sights of wildlife. Deer and eagles are commonly sighted in the heart of the Chequamegon National Forest which includes over one million acres of publicly accessible land.
Pike Lake Chain of Lakes
The Pike lake Chain of Lakes is a group of four fully navigable lakes, two creeks and one lake is accessible by a short portage through the wilderness area. The two class A Musky lakes are approximately 800 acres each. Both are open for motor trolling. The smaller lakes are approximately 350 acres each and all lakes and creeks are naturally connected for fishing and touring pleasure. To ensure that fisherman, waterskiers, and boating enthusiasts have ample time and space to enjoy the lakes and surrounding nature, a town ordinance regulates waterskiing hours from 10am to 5pm.
Great Fishing!
Muskie, Walleye, Northern Pike, Crappie, Perch, Bluegill, Sunfish, and Rock Bass are all plentiful with Smallmouth Bass making a strong comeback in the past few years. Professional guides bring people to these waters because they consistently catch high numbers of legal Musky and the occasional 50+ inch, 40+ lb. trophy fish. The spring crappie spawn can yield some spectacular action or just take the kids out anytime for some Panfish fun. Fishermen and women of all ages will enjoy hours of fun on the Pike Lake chain.
Resort Info...
Since 1951, the Noetzels have provided:
14 clean, comfortable one, two, and three bedroom cottages equipped for light housekeeping
Lodge with full liquor bar, pizza, premium ice cream, candy, chips, games, and much more
Professionally maintained park-like grounds overlooking an 800 acre lake
Playground with swingset, teeter-totter, sand box, toddler play structure
Boat and motor rentals. One boat is included with each cottage.
Planned activities: volleyball, horseshoes, softball, potluck cookout
Roped-in swimming area with gradually sloped sandy bottom for children
Plenty of dock space with ladder and benches
Swimming/waterski platform (14' x 14') located 150' offshore in 7' water
Idle Hour offers seekers of rest and recreation a second family home composed of 14 well-kept rustic cabins. All cabins are furnished and clean with ample kitchen utensils and dishes for housekeeping. However, if you wish, bring along your favorite electric coffee pot, electric frying pan or other handy conveniences. Every cabin has a propane heater or fireplace to keep you comfortable. Additional blankets are available. Clean hot showers are centrally located for your use. Our four season cabins have been recently remodeled, including showers.
Pets are welcome but must be cared for properly. A few common sense rules apply for the safety and comfort of all.
We will do everything we can to make your holiday the best family vacation ever. We have over 55 years of experience providing a friendly environment with clean, comfortable accommodations. Include us in your vacation plans. Rates...

Sat-Sat Check-in 2pm Check-out 9am)

1 Bedroom Cottage: $320/wk $60/night
2 Bedroom Cottage: $375-$450/wk $65-$80/night
3 Bedroom Cottage: $485-$585/wk $80-$100/night
Eight cottages on the lake front (20' to 100' to water). Six cottages overlooking the front lawn all with a view of the lake.


Cribs: Free of charge, if available
Extra boats: $6/day; $20/week
Personal floatation: no charge if available
Outboard motors :10 HP and 15 HP
Weekly - $125
Daily - $25


Gas and Oil: Sold on site
Bait and Tackle Shops nearby
PLEASE NOTE: Rates subject to change without notice.