Hooked Up Sportfishing Charters
SHARE THIS PAGE
(920) 495-5586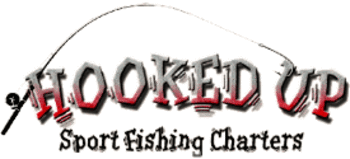 GET READY TO GET HOOKED UP!!!!!! Located in Sturgeon Bay Wisconsin, "Hooked Up" Sport Fishing Charters is geared up to show you the fishing experience of a lifetime!
Hooked Up Captains and First Mates have been fishing the legendary bank reef for King Salmon and Rainbow Trout since they were old enough to walk. Their reputation for catching fish and having a great time has been bringing people back year after year!
With an overwhelming population of King Salmon on Lake Michigan, now is a better time than ever to fish Sturgeon Bay's bank reef for the rod bending trophy of a lifetime!
WHY CHOOSE HOOKED UP CHARTERS?
LOCATION: Door County is known for having the best fishery in the Midwest and Hooked Up Charters is located right in the center of the action! Per the WDNR records, Sturgeon Bay charter fishing boats catch more King Salmon per trip than any other major port in Wisconsin! Sturgeon Bay, Wisconsin is also home to the STATE RECORD King Salmon!

CREW: Hooked Up Captains and mates have over 50 years experience. Their competitive sides have helped them to place in the top ten in every tournament fished on Hooked Up including a 1st and 3rd place finish in The Sturgeon Bay Offshore Challenge in back to back years!
EQUIPMENT: We provide our customers with state of the art NEW tackle and equipment every year and fish on one of the area's largest and most well equipped Lake Michigan Charter boats!
RATES: Our Captains and mates love to fish, and it shows! We take pride in providing our customers the VERY BEST charter fishing experience at the BEST PRICE!!!
Whether you enjoy heading out onto the big water to fish Lake Michigan for HUGE line peeling King Salmon and Rainbow Trout, or you're addicted to Sturgeon Bay's unmatched Smallmouth or Walleye fishing, Hooked Up Sport Fishing Charters will handle all your sport fishing needs!
Hooked Up Sport Fishing Charters Offers Lake Michigan Salmon Fishing Charters , Green Bay Walleye, Northern Pike, and Smallmouth Bass fishing Guide Service, and Ice Fishing Green Bay and Sturgeon Bay Wisconsin.
The Boats "Hooked Up" is a Large twin engine Carver Sportfish equipped with the latest and greatest tackle and equipment available to ensure your trip is a success. At Hooked Up we don't brag about running the most boats or the most charters in Door County, we just strive to run the best! We work hard to provide our customers with the best possible charter fishing experience that Door County has to offer, and we do it at the best price in Sturgeon Bay! Providing our customers with one of the area's largest most well equipped boats is one of the key elements in providing an unforgettable sport fishing experience! From the full sized restroom, to the kitchen, and large enclosed cabin with plenty of seating for 6, to the huge fishing deck and a fly bridge above, we are certain that you won't find a better suited charter boat anywhere on Lake Michigan!
What To Bring
Hooked Up charters will provide you with all the essential things to make your trip a success, however, there are a few items you should bring to make your experience more enjoyable.
We Provide:
All tackle and equipment
State of the art life safety and navigational equipment
A friendly knowledgeable crew

All fish cleaning and processing
A clean boat with enclosed cabin and restroom facilities
You should bring:
A Wisconsin fishing license with great lakes Trout &
Salmon stamp
Sunglasses
A Camera

Soft soled shoes
A cooler to transport your catch home
Any food or beverages you would like
Ice Fishing
Come join Hooked Up in the winter months, and enjoy a day spent catching Perch, White Fish, Northern Pike, Walleye and Brown Trout through the ice!
We have several large heated ice houses all located in our hot spots giving you the best chance for success! Our shacks will fish up to four fishermen in style with wood heat, carpeted floors and comfortable seating. We can provide you transportation to and from our shacks with Atv's, snowmobiles or trucks if the ice conditions allow. Our Atv's are fitted with a Polaris Prospector track system to ensure that no matter what the snow conditions are on the ice we will be able to get to our hot spots worry free.
Whether you have your own tackle and equipment and are just looking for an ice house rental for the day, or you're looking for a fully guided outing including all the bait, tackle, and a fresh meal prepared on the ice for your party. Hooked Up's experienced guides will handle all your ice fishing needs! Ice fishing trips are a great way to get out and enjoy the winter months at a price anyone can afford!
PLEASE NOTE: Rates subject to change without notice.
Waters Guided
Bay of Green Bay, Brown County
Fox River System
Sturgeon Bay
Fish Targeted
Brown Trout
Chinook Salmon
Coho Salmon
Northern Pike
Smallmouth Bass
Walleye
Yellow Perch