Fountain of Youth for Boats
SHARE THIS PAGE
96 Oakridge Drive
North Prairie, WI 53153
(262) 392-9192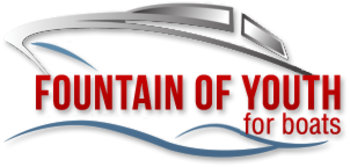 Welcome to Fountain Of Youth For Boats. We have 29 years of experience in servicing the boating community. Our craftsmen offer the following services.
Fiberglass Repair - Cosmetic and Structural - Gel coat, Paint & Flake
Aluminum Repair
Complete Canvas Shop

Upholstery
Transoms, Floors and Carpet
Storage/Shrink Wrap
Fiberglass Repair
Our fiberglass technicians will repair any problems that you may have. From complete restorations to a buff and wax. No job too big or small. We can take care of any insurance claims you have. We do warranty work for most of the boat manufacturers. All of our work is done "in house" and we warranty all of our work.
With over 29 years of experience in fiberglass boat repair and restorations, we continue to service our customers from Wisconsin, Illinois, Indiana, Michigan, Minnesota, and midwest area with premium boat care.
With us, fiberglass boat repair is a business, not a hobby. Our many years of experience in marine production, design and repairs will prove it.
Your boat is an investment and we understand the importance of that boat and maintaining it's image on the water.
When that unfortunate scratch, ding or chip happens, or when it's time to restore that fading color, we are experienced, qualified and ready to do what needs to be done to get your boat going again.
Fiberglass boat repair, fiberglass refinishing, fiberglass painting and fiberglass boat restoration for all fiberglass watercraft, bass boats, jet skis, sailboats and more.
Boat Covers All of our canvas is custom made at our shop. There is no generic cover, even if it is made for your boat, that will fit and look as good as ours. There IS a big difference.
Our custom boat covers, are constructed with quality features. Multi-ply vinyl reinforcements at stress points, folded joined seams, no raw edges, they are weather resistant with double reinforced tie down loops and styled for a custom fit.
We have a boat cover for you! A ski boat, pontoon, fishing boat , deck boat, v-hull, bass boat, speed boat, canvas, or a runabout boat, protecting your investment is essential. We can repair or replace your canvas boat cover with a long lasting marine vinyl.
Boat covers for winter storage, boat mooring, traveling or towing, our high-quality custom boat covers provide durable, lasting protection for your investment.
Custom boat covers are available in several marine fabrics & colors, & are offered with custom fit & accessory options. Also a marine vinyl, long lasting, resists mildew and is water proof. This all makes for a beautiful canvas product.
Boat Upholstery, Custom Boat Interiors, Repair Shop Whether you want a new custom boat interior or to simply repair your existing boat upholstery, "Fountain of Youth for Boats" has over 29 years of experience. From 16 foot Runabouts to Pontoons to 40 foot "Go Fasters" we can meet your needs.
Upholstery:
Custom Boat Interiors
Boat upholstery
Recovering Old Vinyls
Headliners
Wood Replacement for boat seats and panels
Carpet Replacement
Bimini Tops

Convertible Boat Tops
Complete Enclosures
Clear Vinyl Replacement
Fiberglass boat repair shop
Window replacement
Complete canvas packages
Convertible and Bimini boat tops can keep both captain and crew up to 30-1/2 degrees cooler as well as protect you, your boat upholstery and custom boat interior.
Since we custom make our tops, we can make it any size to fit your particular needs.
Give us a call with any questions or stop by to see the quality of the work we do.
PLEASE NOTE: Rates subject to change without notice.