Florence County Wisconsin
SHARE THIS PAGE
5628 Forestry Drive
Florence, WI 54121
(715) 528-5377
(888) 889-0049 - toll free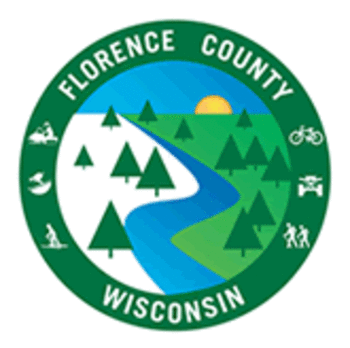 Welcome to Wild Rivers Country!
With wild rivers, wildlife, wilderness, and wildflowers, there is always "Something Wild" to experience in Florence County. Let the Wild Rivers transport you back in time to an era when fast-paced lifestyles did not exist. Come and explore the forgotten corner of Wisconsin where visitors experience the beauty of nature's palette. Spring brings fields of wildflowers vividly on display waiting to be discovered, while autumn explodes into one last dramatic performance before winter's cold grasp. A vast array of outdoor recreational opportunities exist for both the energetic and relaxed vacationer. Cold trout streams abound with every trout fisherman's dream while a variety of trail systems await your exploration. Take time to renew your spirit while relaxing in the heart of the Northwoods. Journey to Florence County and discover the land time has forgotten, but you will never forget.
Things To Do...
Great Fishing
With the numerous lakes and streams in Florence County, visitors might spend more time deciding where to fish than actually fishing.

Wild Rivers
The Pine and the Popple rivers offer a truly wild experience; being among Wisconsin's more remote and undeveloped river systems. The area is rugged and undeveloped. Access is limited and often difficult. The shorelines are heavily wooded with sugar maple, yellow birch, hemlock and white cedar on the upper stretches and aspen, sugar and red maple, balsam fir, white and jack pine are most prevalent on the lower reaches. The rivers' mood alternates between quiet sections that lazily meander through lowland forest to swift rocky riffles, rapids and waterfalls. These rivers offer high quality padding and fishing in a secluded, natural environment during high water conditions. Other opportunities along the rivers include hunting, hiking, nature study, and photography. Miles of undeveloped river allow everyone to find his or her own special place.

Wilderness
Wildlife thrives in the forests of Florence County. This is a great place to experience nature and view the natural beauty.

Canoeing the Wild Rivers
Would you like to traverse the path of an explorer probing unknown wilderness in a birch bark canoe, or the trail of the trapper seeking beaver or otter pelts, or perhaps follow the wilding courses of log drives that once transported timber to early settlement sawmills? Experience a canoe trip in Florence County's Wild River County.
Tubing the Wild Rivers
For a relaxing summer day, try tubing one of Florence County's Wild Rivers! This 3.5 miles journey on the Pine River Oxbow will keep you cool while you experience nature close up. Normally a two hour trip, bring a cooler on a tube and stop for a picnic on the shores of the Pine River.
Hunter Walking Trails
Florence County Forestry and Parks Department maintains about 27 miles of hiking trials. The trails are designed as hunter walking trails, but they are available for hiking at any time. During the fall (September through December including small game) hikers are advised to wear some form of blaze orange clothing. During hunting season these trails and wildlife openings are seeded periodically with clover and are mowed annually (July - August).

ATV Trails
ATVs and Lightweight vehicles (LUVs) can explore over 150 miles of trails and routes throughout the county. The trails take riders to waterfalls, scenic vistas and many area restaurants and taverns. Riders can ride as far as they desire as the Florence County trail system is connected to Marinette and Forest Counties in Wisconsin and Iron County Michigan.
Other Attractions...
Mountain Bike Trails
Wild Rivers Auto Tour - Fall Color
Wild Rivers Country Waterfalls
Chequamegon-Nicolet National Forest
Spread Eagle Barrens
Natural Resource and Wild Rivers Interpretive Center
And Much More!
PLEASE NOTE: Rates subject to change without notice.