Dublin Sports Bar & Grill
SHARE THIS PAGE
4394 Twin Overlook
Conover, WI 54519
(715) 350-2121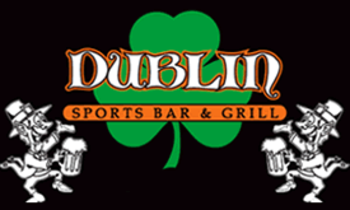 Is your stomach and your boat's gas tank beginning to run low on fuel?
We offer lakeside features so you can always have fun in the sun all day long!
You can come right off the water and enjoy a sit down meal without the hassle! You'll be able to dock your boat and eat a meal all in one place!
Need gas before you head back out to the water? No problem! Fill up with us!
Drink specials that are sure to float your boat!
Take advantage of our happy hour drink specials every day from 2:00 P.M. to 6:00 P.M. and 10:00 P.M. to 12:00 A.M. Drink your favorite beer on tap while admiring the lakeside view in our beer garden. Dock your boat at Dublin Sports Bar and Grill and join the party!
Take a break to dock and dine with us!
Lakeside and outdoor seating
15 boat slips
On-shore gasoline
Order from a menu that doesn't limit your choices!
We have what you're craving!
Whether you want a a burger or a wrap, we're sure to have it on the menu! You'll be able to induldge in delicious food that satisfies your appetite while enjoying a fun-filled, lakeside environment. We'll serve you the finest food until 1:00 A.M. daily!
Happy hours you can't miss!
You won't have to worry about missing happy hour at Dublin Sports Bar and Grill because we offer happy hour specials EVERY DAY! Stop in and relax with one of our special tap beers between the hours of 2:00 P.M. and 6:00 P.M. or 10:00 P.M. and 12:00 A.M. tonight!
The party never stops at our bar and grill!
Order one of our 16 beers on tap and celebrate your birthday, anniversary, or other special occasion! Ask about our karaoke and live music entertainment! The fun is always Dublin on the Twins at Dublin Sports Bar and Grill so bring your party today!
The best beer is all on tap here!
Guinness
Spotted Cow
Harp
Smithwick's
And more!
Eat somewhere the whole family can agree on!
We have menu items to satisfy even the pickiest eater in your dining group!
You'll be able to order exactly what you want! Order one of your traditional favorites, or try a menu item that will soon become your new favorite, like our reuben soup and Irish car bomb cake! Ask us about daily food specials!
Eat and enjoy yourself!
Whether you want to take in the beautiful view of the lake or catch the score of the big game, we have the perfect table for you! We'll provide you with lakeside seating or a table in front of one of our 15 flat screen TVs when you visit us!
Tasty options that will satisfy your appetite.
Appetizers
Salads
Sandwiches
Wraps
Burgers
Your fun doesn't have to be limited to the weekends.
PLEASE NOTE: Rates subject to change without notice.