Burhop's Lakeside Lodge
SHARE THIS PAGE
W11610 County Road V
Lodi, WI 53555
608-592-4802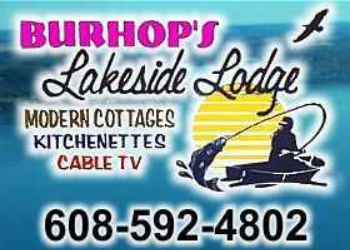 Burhop's Lakeside Lodge
Each of our 1, 2, or 3 bedroom cottages are gas heated and sleep up to 6 people.
Cabin Rentals

Queen and/or double beds and foldout.
Full kitchen with coffee maker, microwave, cooking utenslis, sliverware, dishes, celiing fan, sheets, blankets, and cable TV
Bathroom with shower
Outdoor shaded area with lake side grlil, picnic table and fire pit. All are completely furnished with: There also is a swimming area with a swimming raft.
Air Conditioning
Marine and automoblie gasoline avaliable nearby.
Boat landing and docks avaliable for guest use at no extra charge.
All you need to bring is towels, dishtowels, food and a spirit to have fun!
Pontoon and Fishing Boats
14' Aluminum boat w/ 8hp motor
14' Aluminum boat w/ 15hp motor, electric start
20' Pontoon boat
24' Pontoon boat
Bait Shop at Burhop's Lakeside Lodge
Live Bait
If you're a fan of fishing; then finding the best bait for your fishing trip is essential. Every fisherman from the professional to someone looking for a new hobby should realize that using the best bait for fishing will provide you with a good fishing experience. We all know fishing can be very stressful without the best baits. It's not very fun coming home without any fishing stories to brag about. We offer a variety of live bait for you to choose from.
Fishing Lures
Whether you're fishing for smallmouth bass, largemouth bass or spotted bass, getting out on the water equipped with the right bass lures is the secret to hooking a trophy fish. We offer a wide assortment of lures for you to choose from. For more information, contact us or call 608-592-4802.
PLEASE NOTE: Rates subject to change without notice.