BOR Outdoors llc - Mississippi River Fishing & Bowfishing Guide Service
SHARE THIS PAGE
(608) 797-2997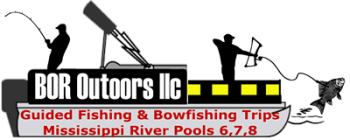 Mississippi River Guide Service - Fishing & Bowfishing trips
Serving the La Crosse, Winona, & Trempealeau area on the Mississippi River. Guided Fishing Trips offered on Pools 5a, 6, 7, & 8. Including Lake Onalaska!
Your Captain - Jon Borreson
USCG Licensed 100 Ton Master
Wisconsin Licensed Guide
Fully Licensed and Insured
Guided Fishing Trips
There is always a good bite on the Mississippi river. We start our open water guided fishing trips as soon as the boat landings are free of ice, for walleyes and perch. Then in April the bass and northern fishing turns on. In spring we have lots of 50 fish days! When summer gets into full swing we continue bass fishing along with walleye, panfish, and some great catfishing. When we get into September & October and the water cools its Small Mouth time!
Rates - Guided Fishing Trips: Up to 2 people
$200 half day (4 hours)
$300 full day (8 hours)
$150 2.5 Hour Evening Trip
3rd person 4 hour trip $50
3rd person 8 hour trip $75
Guided Bowfishing Trips
Have you ever been Bowfishing?
If not its time to give a bowfishing trip a try. Guided Bowfishing Trips can be done either during the day, or at night. Day shooting is often slower with longer shots necessary but can be dynamite during the carp spawn, as well as on nearly any sunny day. Night shooting offers nonstop action from start to finish with closer shots and less spooky fish. Most of our trips are done at night starting an hour before dark, and lasting 5 hours. We can only shoot rough fish, but there is always plenty to shoot at.
Our Guided Bowfishing trips take place out of our 20' Pontoon with LED lights and powered off batterys, with a Generator as a backup. We can accommodate up to 6 shooters on our quad toon pontoon, and we provide all the equipment necessary. Draw weights are adjustable from 20-40lbs making it a great sport for nearly anyone that can draw a bow. Trips over 4 people may include a deckhand to help with gear and fish removal.
Rates - Guided Bowfishing Trips:
Night Prices are $125 Per person with a 2 person Minimum for 5 hours.
Day Prices are $350 for 8 hours for 2 people & $100 per person extra.
Half days are $225 for 2 people. $50 per person extra.

What you will need
Fishing License
Change of clothes
Warm Clothes
Bug Spray
Polarized sun glasses during the day
Snacks and drinks
Bowfishing - Water proof shoes, boots or old shoes -
your going to get slimy and bloody!
PLEASE NOTE: Rates subject to change without notice.
Waters Guided
Mississippi River Pool 5a
Mississippi River Pool 6
Mississippi River Pool 7
Mississippi River Pool 8
Fish Targeted
Flathead Catfish
Largemouth Bass
Northern Pike
Panfish
Smallmouth Bass
Walleye
Yellow Perch