Bob's Manitowish Guide Service
SHARE THIS PAGE
(715) 892-2366 / (715) 385-2711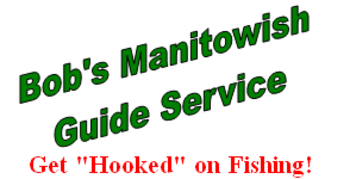 Fishing Fun for All Ages!
Get "Hooked" on Fishing!

Bob's Manitowish Guide Service
Bob Mepps Bertch
is a full time guide with over 35 years experience fishing in the Northwoods of Boulder Junction area lakes and rivers!
Experience the fun and excitement of catching a trophy Musky, Bass, Walleye, Northern Pike, Crappie & even lots of pan fish!
Share the experience with your family to watch your son or daughter catch their first keeper or record breaker!
Creating family memories, spending time on the water enjoying the great relaxing sport of fishing from beginner to expert! Bob will plan a fun day or day on the water for you, your family and fishing buddies! Corporate plans also available with a guide team from the Boulder Junction chamber guide list!
Provides transportation to and from the lake, rods and reels, tackle, fish cleaning and packaging. 17Ft. Alumacraft Bass boat with electronics. (Live bait at additional cost.)
Choose from the many beautiful lakes surrounding Boulder Junction in Vilas or Oneida Counties for the ideal day!
PLEASE NOTE: Rates subject to change without notice.