Blonhaven Hunt Club
SHARE THIS PAGE
14626 West Berg Road
Orfordville, WI 53576
(608) 879-3811 / (608) 290-8614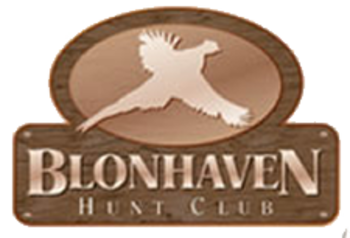 Welcome to the Blonhaven Hunt Club!
Enhance your senses and enjoy the majesty of the great outdoors.
Nestled in the rolling hills of Spring Valley, Blonhaven Hunt Club offers every level of hunter an exciting and challenging experience. All of our fields have been groomed for the primary use of hunting upland game. Over 300 acres of sorghum, switch grass, and milo await your party.
We divide our property into eleven different hunting fields so each group has their own private area for the half day hunt. Our areas vary in size and can accomodate up to five hunters per field. Request your favorite area when making a reservation or let us choose which would best suit your hunting party.
We offer a variety of game birds for your hunting experience. Our most popular is our outsanding quality ringneck pheasants. We also offer hungarian partidge and chukars for your hunting pleasure. For your added convenience we do not require a hunting license, even for out of state visitors.
Our fully trained staff will assist you in order to make your hunt at Blonhaven a truly memorable experience.
After your hunt you can leave the clean-up work to us! We offer a variety of prepared products that you can exchange for your harvested birds.
Our spacious new lodge is complete, and the pro shop offers the finest in hunting apparel and dog training supplies. Relax in front of the fireplace after your hunt, enjoy refreshments from our full service restaurant, or entertain your guests in style.
History of Blonhaven
We are the oldest, continuous hunting preserve in the State. Our first hunt was in the fall of 1953 in Milton, WI, and we operated at that location for 46 years.
In the fall of 1999, we moved to our present location which offers 3 times the hunting area and the peace and tranquility of days gone by. Come and discover why second and third generation hunters are making Blonhaven a family tradition.
What sets us apart
You may harvest all the birds that you find in your area regardless of the number released at no extra charge. Our Hunting cover is designed specifically to withstand whatever Wisconsin weather we have. Thinner grass fields for the early season hunting and thicker cover specifically designed to withstand heavy snow and ice. Our hunting cover is unbeatable from October all the way to April!
How a typical hunt works
We cover almost 300 acres and divide the land into several hunting areas. The entire 4.5 mile perimeter is fenced with 4' woven wire. This is to alert you of our boundaries and to keep your dog on the property. Each area is fenced to keep other dogs out of your field. It also provides a safer environment in which to hunt.
All hunts are on a reservation basis. Your party will have their own private hunting area for their half day hunts. You can book a morning or afternoon hunt. Our morning hunts are from 8AM-Noon and afternnon hunts are from 12:30-4:30PM or dusk, whichever is first. All hunts are limited to 4 hours maximum however, you are welcome to book 2 hunts in one day.
Meet Our Hunting Guides at Blonhaven Hunt Club
For those of you who don't have your own dogs we offer the most professional guides' and dogs available.
All of our guides and dogs are experienced hunters who have a true love for the sport of pheasant hunting. Whether it is your first time in the field or you're a seasoned hunter, our guides will use their knowledge and skills of pheasant hunting to increase your shot opportunities as well as your shot success rate.
Our guides are also experienced dog trainers that are happy to share their knowledge and give tips and pointers on what you need to start your own hunting dog. We also offer professional dog training services, contact the clubhouse for details.
When you visit the clubhouse at Blonhaven you will see a few of the trophy's our guides' dogs have won in hunt trials over the years.
PLEASE NOTE: Rates subject to change without notice.