Ballweg's Guide Service
SHARE THIS PAGE
(608) 220-9866 - mobile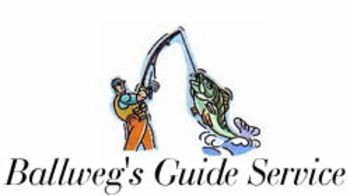 My Guide Service
In late winter or early spring, (February & March) when the ice recedes enough to permit it, we will be fishing the head waters of Lake Wisconsin. We will be targeting walleyes in the tail waters of the Dells dam even before the ice lets up in other areas of the river system. Much depends on the weather at this time of the year, but generally, fishing is pretty good and the chance to catch a really good size walleye or sauger is very good.
In early April, I sometimes spend a few days targeting bluegills in the back bays of Lake Wisconsin. Some crappies and perch always seem to find their way in the boat also. Around the end of April and into early May, we will be chasing big crappies as they make their way to the spawning beds. By the middle of May, we switch back to post spawn walleyes as they make the trip back from their upriver spawning rituals. This is an underrated time of the year and most anglers miss out on this great opportunity to catch these big post spawn females. Many average size fish make their way into the boat as well. These fish are hungry, and if you get the right lure in front of them, they will usually eat it.
Early June is consistently one of the best times of the year with limits of walleyes and saugers being fairly common. The really good bite will start in mid to late May and can continue into the middle of July on a really good year. Other years, the best bite runs till the end of June.
I usually take a break from fishing around the middle of July until late August. From the end of August to the middle of October, we will once again be targeting crappies. Lots of white bass & bluegills are caught in late summer an early fall in the pursuit of these very large Lake Wisconsin crappies.
Starting in mid-October, we will target walleyes and saugers once again. Some of the biggest walleyes of the year are always caught at this time of the year.
Along with the cold weather of late November & early December, comes the best bite of the year for saugers. Limits are common and so are big saugers over 20" long. It's not unusual to catch a limit and release three or four others between 20 and 23" long.
My Boat
2003 18' Lund with a double counsel and powered by a 175hp Envinrude. A T8 Yamaha kicker motor takes care of the trolling and a 24 volt, 80lb thrust Minn Kota I-Pilot bow mount electric motor does a great job of controlling the boat when fishing presentations need to be slowed down. Two Lowarance LCX-27C color sonar/gps units. One on the console and one on the bow.
Rates
| | | |
| --- | --- | --- |
| # of People | Full Day | Half Day |
| 1 Person | $300.00 | $200.00 |
| 2 People | 350.00 | $225.00 |
| 3 People | $400.00 | $250.00 |
A full day is 9-11 hrs
A half day equals 5 hours on the water
Clients who book two trips in one year, can get a third trip for half price
A $100 deposit is required to reserve a date!
Check the "Bookings Calendar" for open dates
What you should bring along
Your Wisconsin fishing license
Lunch, snacks and beverages
Plenty of warm clothes during the cold months
Rain gear, sun glasses and sunscreen during the warm months
Your favorite rod if so desired
A cooler or ice chest to take your fish home in
And a camera to capture the memories
Equipment
18' Lund Pro V SE with double console
175hp Envinrude Outboard
T8 Yamaha kicker motor
24 volt, 80lb thrust Minn Kota I-Pilot electric trolling motor
Lowrance LCX-27C full color locator with GPS mapping
Lowrance LCX-27C on the bow
St. Croix Avid spinning rods
Shimano Stradic, Sahara & Sedona spinning reels
Daiwa Sealine SG27LCA reels for trolling crankbaits
Daiwa Sealine SG47LCA reels for trolling lead core
Abu Garcia Ambassadeur 6500C3 reels for bottom bouncing
PLEASE NOTE: Rates subject to change without notice.