Best Spinning Reels of 2023
Our reveiw of this year's top spinning reels.
by Lake-Link Staff
There's a lot of commotion out there about the best spinning reels of 2023. With a couple new spinning reels recently launched at the 2023 Bassmaster Classic Expo in Knoxville, TN, the marketplace is further flooded with options and we're not even close to ICAST 2023 in July, the annual launch pad for new fishing gear.
To standardize our take on the best spinning reels currently in stores, we're going to focus on 2500- and 3000-size spinning reels-great all-around sizes for bass, walleyes, and mixed-bag fishing. These sizes are not too small, not too big, and the choice of many pros and guides when it comes to reels for daily use.
Things to consider before buying a spinning reel:
Weight (lighter in weight to balance with mid- to higher-priced carbon/graphite spinning rods)
Drag pressure (in pounds)
Gear ratio & inches of line per handle turn (aka "IPT") to match a variety of techniques and keep fish hooked
Size - Most anglers prefer a compact spinning reel
Material construction for longevity - aluminum/magnesium/and proprietary alloys last
Water/corrosion resistance
How much should you expect to pay for a quality 2500- or 3000-size spinning reel?
Most quality 2500-3000 spinning reels will hit your pocketbook somewhere between $120 and $250, although there are a host of cheaper products and more expensive options at retailers.
With spinning reels, the sky really is the limit. Just take a look at the Daiwa Exist and Shimano Stella SW C. I guess if an angler had to own just one reel-like that perfect high-end golf driver or deer rifle-you might consider a reel between $850 and $1000. We haven't gotten to that point yet so we'll remain in the mid-price arena to outfit several rods, each with a spinning reel that's technique-specific.
Top Spinning Reels of 2023:
For starters, the affordable (but very capable) Okuma ITX Carbon spinning reels are lightweight, compact-bodied, and constructed of rigid C-40X long strand carbon fiber. According to Okuma, the C-40X process is 25% stronger than standard graphite reels. Lightweight and rigid, the C-40X rotor and its TCA construction make the ITX perfect for your freshwater and light inshore needs.
The ITX features a multi-disc, carbon fiber drag system with Okuma's Hydro Block Gasket, keeping water out and your drag running smooth. The 7HPG +1RB High Performance, grease packed bearings keep the reel running smoothly along with the precision machine cut brass pinion gear. And the Quick-Set anti-reverse roller bearing stops the reel on a dime. Furthermore, ITX reels are designed with Okuma's CFR, Cyclonic Flow Rotor technology which sweeps water away from the two-toned anodized machined aluminum spool.One of the key features of the new ITX Carbon reels is the machined aluminum, screw-in handle design keeping your handle running tight with no more loosening screws.
Features
Weight: 8.3 ounces
Drag: 18 pounds
Rigid C-40X rotor/TCA construction
Multi-disc, carbon fiber drag w/ Hydro Block gasket
7 ball bearings + 1 roller bearing
Quick-set anti-reverse roller bearing
CFR: Cyclonic Flow Rotor Technology
Machined aluminum screw-in handle
Traction Grip Technology
Precision machine-cut brass pinion gear
Machined, anodized aluminum spool
Heavy-duty, solid aluminum bail wire
RESII: computer-balanced Rotor Equalization System
Right/Left handle
6.0:1 gear ratio
33.5-inches of line per crank
$120 MSRP
---
Abu Garcia has been a top name in reels for decades, manufacturing reels in a host of sizes for all fish species.
Their new Abu Garcia REVO3 Rocket SP30 offers serious performance with a cutting-edge, bright-red design and probably the highest gear ratio in its size and class on-the-market. The Size 30 has a 7.6:1 gear ratio for 43 inches per turn of line retrieval per handle turn-which might be just fastest spinning reel on the water in the 2500-3000 size class-or as Abu designates their reel, size 30.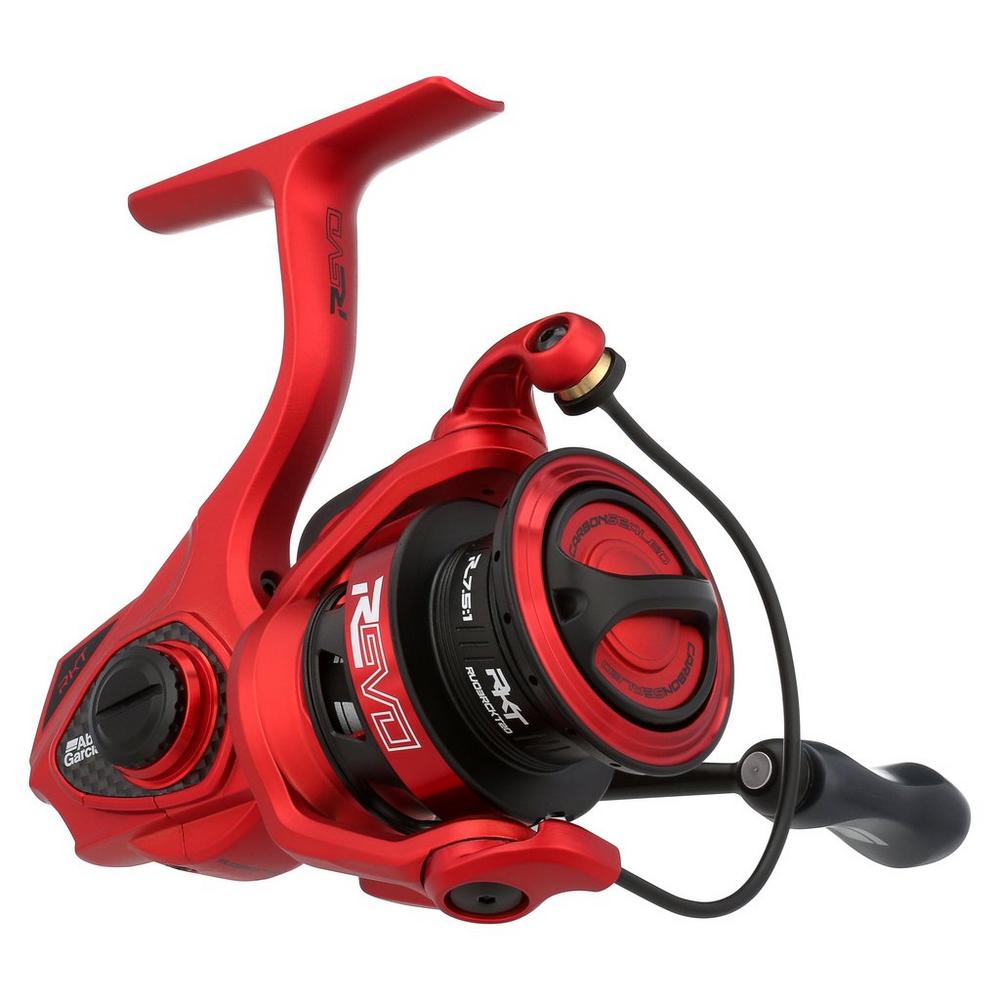 All that said, for power fishing with spinning gear, the REVO3 ROCKET SP30 might just be the coolest thing since sliced bread. If setting the trolling motor on high, covering lots of water, and working baits fast is your game-or getting your bait back to the boat faster to make another targeted, precision cast, the new Abu Garcia REVO3 Rocket SP30 might just be the reel for you.
Features
High speed 7.6:1 gear ratio for 43" IPT
Weight: 7.6 ounces
Drag: 11 pounds
Asymmetrical body design
V-Rotor design
Rocket line management™ system
Rocket spool lip design
Machined aluminum braid-ready spool
Carbon Matrix™ drag system
Aluminum handle with co-molded soft-touch knobs
AMGEARING™ (AMG 2) gearing system for smoothness & durability
9 stainless steel HPCR™ ball bearings + 1 roller bearing
Stainless steel main shaft & components
Slow oscillation to keep fish pinned
Interchangeable reel handle for right- & left-handed anglers
MSRP $199.95
---
Daiwa has been a major player for decades, and their products are born of Japanese engineering and manufactured with precision and detail. Daiwa reels work perfectly right out of the box and last a lifetime. No matter the technique or species you chase-from panfish to bass and walleyes to inshore or offshore fish-Daiwa offers a quality solution.
A lot of Daiwa's engineering and feature-sets extend down from $1000 priced reels all the way to reels in the sub $100 category. The recently Bassmaster Classic Expo 2023-launched
Daiwa MQ LT 2500
is no exception. The "LT" stands for "light" and "tough" and the reel is precisely that; the MQ stands for Monocoque, the high-density material that comprises the reel frame for extreme rigidity and reduced weight, a material typically only found in Daiwa's $350 and up spinning reels like the Kage MQ LT.
One Lake-Link staffer has been fishing older DAIWA LT 2500 reels on several rods-for both bass and walleyes-after years of fishing Japanese-made Stradic 2500 CI4+ spinning reels almost exclusively.
Apparently they're now even better.
The biggest difference? The standard Tatula LT did not have a Monocoque body, something you had to step up to $230 to benefit from in Daiwa's Ballistic MQ LT family-at least prior to the recent 2023 Bassmaster Classic Expo in Knoxville, Tennessee.
Now constructed of Daiwa's one-piece Monocoque (MQ) body, there's no need for a body cover on the reel. Instead, there's an engine plate screw running directly into the body. According to Daiwa, the MQ body improves the new Tatula's strength, rigidity, water-resistance, and allows for a much larger diameter drive gear.
And you get all of it for the same price as the last generation Tatula LT -- $199.99.
Features
Monocoque body (MQ): Compact, strong, & lightweight frame
Weight: 6.7 ounces
Drag: 22 pounds
Larger DigiGear for long life
Smooth Daiwa ATD drag system
Quick drag inertia start-up when a fish bites
Airdrive rotor/bail/shaft for smoother rotation & durability
Spool features an amazing 250 yards of 10 lb. braid capability for longer casts
6.2:1 gear ratio
34.5 inches of line per handle turn
8 ball bearings + 1 roller bearing
MSRP $199.99
---
Designed as an inshore reel for redfish, snook, flounder, and other near-coast species-but with double-duty in freshwater-the Clash II's construction is what you'd come to expect from Penn-absolutely bullet-proof.
The
Penn Clash II 2500
features Penn's proprietary CNC Gear™ Technology and HT-1000™ carbon fiber drag to handle fish of all sizes and species. The Hydrophobic Line Roller Bearing, along with the Clutch Armor System ensure protection to critical components in all weather conditions without sacrificing weight, while the Leveling® Slow Oscillation System ensures perfect line lay, cast after cast.
Features include a full metal body and sideplate, CNC Gear™ technology, HT-100™ carbon fiber drag washers, 8+1 stainless steel ball bearing system, Clutch Armor System, Leveline® Slow Oscillation System, and a Hydrophobic Line Roller Bearing. In a nutshell, the reel is built like a tank and you can expect it to perform in freshwater or inshore-and last a lifetime.
Features
Instant Anti-Reverse
Weight: 8.8 ounces
Drag: 12 pounds
Front drag system
HT-100 carbon fiber drag material
9 total ball bearings
Aluminum reel spool
Right/Left handle
Oversized, tacky handle
33-inches of line per crank
$220 MSRP
---
Pflueger has a diehard angler following who sing the praises of their longevity. No exception, the Supreme XT 25 is designed to deliver years of quality performance. Its super-light magnesium frame and carbon rotor, machined aluminum gearing, braid-ready aluminum spool, and sealed carbon drag are perfect for all freshwater situations. The reel also features a total of 11 ball bearings and a carbon handle. The gear ratio is 5.2:1 with slow oscillation to prevent overworking finesse baits and keep fish buttoned when hooked.
Features
Instant Anti-Reverse
Weight: 6 ounces
Drag: 10 pounds
11 total ball bearings
5.2:1 gear ratio
Magnesium frame
Sealed carbon drag
Carbon handle
Machined aluminum main gear
22.4-inches of line recovery per handle turn
Right/Left handle
$169.99 MSRP
---
Sculpted from over a decade of engineering advancement and rich history that includes reels like the ever-popular Shimano Stradic FL, Stradic FH, and Stradic CI4+, the Shimano Vanford tests the boundaries of technology and engineering found in spinning reels.
Built upon a CI4+ body for both a lightweight feel and carbon rigidity, the Vanford incorporates a MagnumLite (MGL) Rotor for up to 48% less rotational inertia than traditional rotor construction for a quick response in critical situations.
The Vanford features Shimano's cold-forged HAGANE Gear and many of Shimano's premium technologies for increased fishing performance and years of durability. Vanford's SilentDrive and MicroModule Gear II technologies combine to produce a new level of smooth rotational performance while reducing overall reel vibration.
Vanford also incorporates Long Stroke Spool technology to increase casting distance while producing a smoother line lay on the spool during retrieval. X-Protect technology and water-channeling construction enhance Vanford's water resistance and overall durability-and important features for a reel sure to be found in inshore environments.
Features
Built on a Shimano Stradic CI4+ body
Cold-forged HAGANE gearing
Weight: 6.3 ounces
Drag: 20 pounds
6.0:1 gear ratio
35 inches per handle turn
Instant Anti-Reverse
11 total ball bearings
Sealed carbon drag
Right/Left handle
$249.99 MSRP
More Great Reads: