Tips For An Easier Shore Lunch-style Fish Fry At Home
By Lake-Link Staff - October 6, 2022
---
Let's face it, part of the reason we fish is for the reward of taking some fillets home for the skillet. While anglers are environmentally-conscious these days and release bigger fish-and keep far fewer fish in the long run than we did years ago-there's absolutely nothing wrong with selective harvest and enjoying a fish fry with friends and family. Especially with inflation, the rising price of gas, groceries, and about everything else, even keeping a few packages of fish in the freezer is an earned right with license fees and should be a reward for being a responsible sportsman/sportswoman.
While we all love a shore lunch on fishing trips, it can be hard to duplicate at home. What we've learned over the years is developing a fish fry system for home can make things run a lot smoother. Keeping essentials on hand in the pantry is a must so when friends or family drop in, assembling a tasty fish fry is hassle-free. Here a few tips to help you with your future fish fries!
Go Electric
While we prepared fish out of a large cast iron skillet for years-just like over the fire on Canadian shores-it can be difficult to keep your chosen oil between the optimum 350- to 380 degrees to cook fillets quickly and to the perfect golden brown. Seems like you do the first batch of fillets and the oil temperature drops for successive rounds of fish and you end up turning up the burner too high, the oil foams, and fillets can occasionally get too dark. Well, remember grandma's, flower-adorned Sunbeam electric skillet with thermostat control? It's time to bring it back! But in our case we did some research and found the largest electric skillet made-one that would make grandma blush-a model from
Presto you can get online for $60
, measures 16-inches to handle a dozen or more cut-up walleye pieces or a similar number of panfish fillets, and is made of a non-stick ceramic for easy, hassle-free clean up, unlike the end result of cooking fish in cast iron. Plus, the unit has an accurate thermostat control that runs to 400-degrees to get you in the perfect zone for perfect, golden-brown fillets batch after batch.
Crisco: Canadian Guide Trick #1
Now, onto oil choices. One trick we learned from Canadian guides is the benefit of using
butter-flavored Crisco
, which travels easily in the boat and maintains an accurate frying temperature. Personally, we like the subtle butter-flavoring but you can use regular Crisco if you prefer. Two cups of the shortening is perfect for a 2- to 3-inch oil cooking depth, just enough to cover the fillets completely to brown both sides simultaneously. The other nice thing about Crisco is after you finish frying the oil conceals and easy to wipe up out of the Presto ceramic skillet and dispose of in the trash. Clean-up is so much easier with an electric skillet, Crisco, and an electric skillet. No more bean cans full of oil!
Fillet Care and Breading Choice
The first step to creating a great breading-and one that will stick to fillets-is making sure all of your fish fillets are rinsed and then dried between layers of paper towels. Once dry, we assemble a mid-sized bowl of egg wash with a couple dashes of added whole milk and prep our breading in a gallon Zip-Loc bag. What do we suggest for breading? Sure, you can roll out your own cracker crumbs from Saltines or croutons but we suggest buying canisters of generic Panko breading at your local grocery. At a little over $1.00 a canister, they eliminate a lot of work. And we revert back to the time-proven
Original Shore Lunch
for the flour-based part of our breading mixture. Goes like this: dump one canister of Panko in the gallon bag with one box of Shore Lunch and mix thoroughly. It's that simple. From there, it's helpful to have a set of tongs to dip the fillets in the egg wash and then in the bag of breading; this eliminates getting your fingers clumped up with wet egg and breading mixture.
We typically bread a cookie sheet of fillets at a time, which just about fits in the Presto electric skillet. Once the Crisco has melted and come up to between 350- and 380-degrees we transfer fillets into the hot oil and monitor with the tongs, generally checking the bottom for golden goodness 2- to 3-minutes into cooking. Doesn't take long. Then flip over and let the other side brown. When cooked on both sides, we transfer the fillets to a cookie sheet lined with paper towels and set in the oven at 200-degrees to keep warm until all fish is fried.
Fish Fry Sides
You can't have a proper shore lunch at home without fried potatoes/onions and baked beans. That's typically enough, although we've taken to heating up a can or two of
Glory Foods Southern Style Mixed Greens
(collards and turnip) to add some fiber (and they taste good) to the overall meal. They can be warmed up in mid-sized bowl in the microwave until dinner's ready. Again, simple as pie.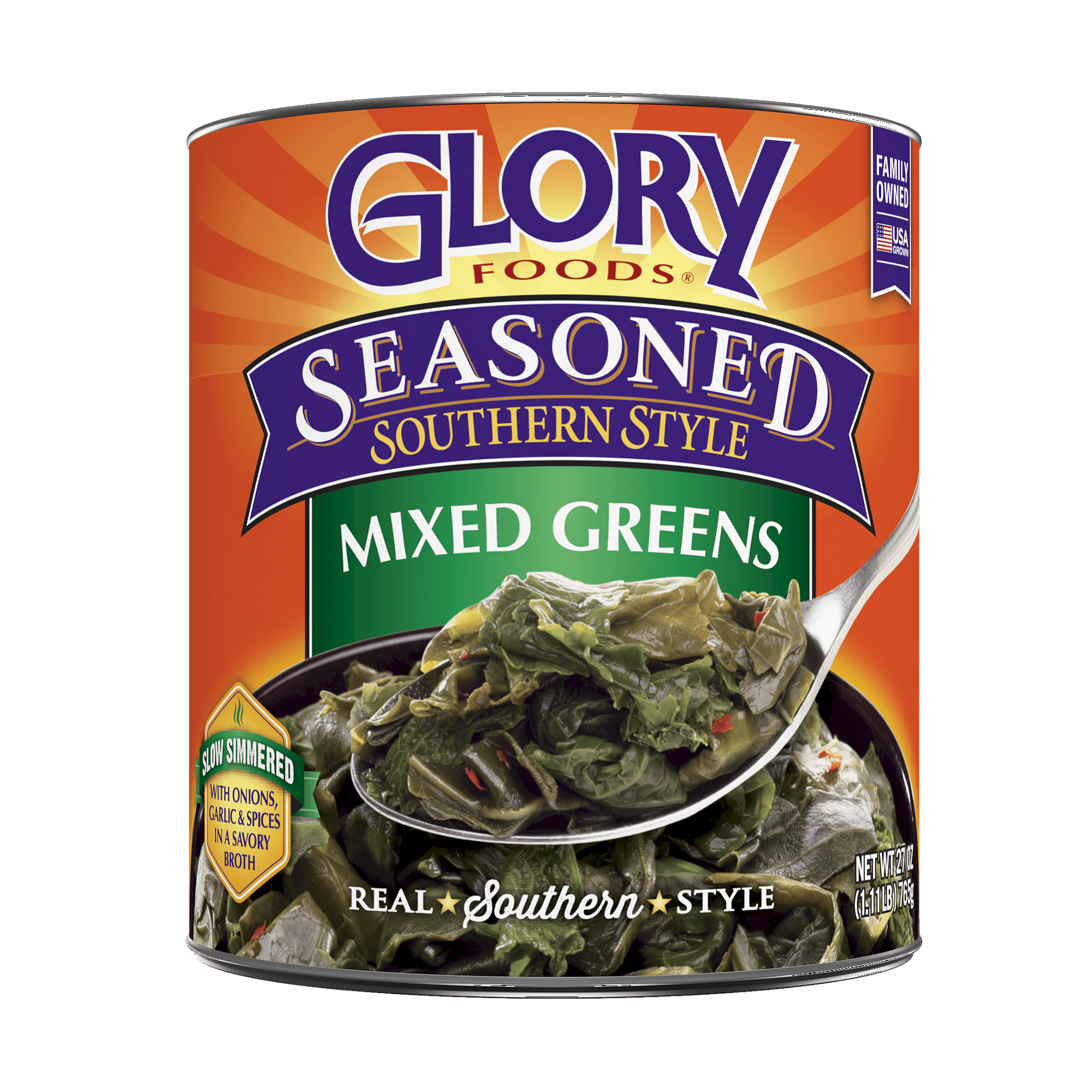 As far as beans go, any kind of baked beans will work although we typically prepare two of the larger cans you'll find in your local supermarket. These can be warmed on the stove in a mid-sized pot until the fish is ready.
Now is where things get interesting. Another trick we picked up from Canadian guides-we've taken to frying up several cans of pre-sliced and cooked new potatoes rather than par-boiling and slicing our own potatoes. For years we wandered the aisles of the supermarket and always left wondering who in the world bought canned potatoes; well, now we know! We typically fry the potatoes in the same electric skillet before we fry fish. For that, you mince two onions, drain the sliced, canned potatoes and dump everything in the pan with bacon grease. If you don't have bacon grease on hand, a couple teaspoons of the same butter-flavored Crisco or real butter will work just fine. Season with salt and pepper and a few dashes of Cajun Two Step Original seasoning, mix thoroughly, and wait for the potatoes to brown up; for this, we generally run the skillet from 380- to 400-degrees.
Then transfer the potatoes to a casserole pan and put in the oven at 200-degrees to keep warm. As mentioned, we like to have the potatoes cooked and warming, the beans on the stove, and greens in the microwave before we start frying the fish.
The rest is fun, relaxation, telling old fishing stories, and eating until belt notches tighten! We hope you give our system a shot to make your next at-home shore lunch easier, quicker, and more fun than it's ever been…