Kenosha Harbor, Kenosha County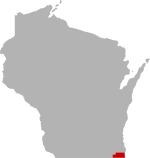 SHARE THIS PAGE
DISPLAYING 1 TO 10 OF 3,384 POSTS
FILTER OPTIONS
9/20/20 @ 2:49 PM
Hey hows it going everyone, I just got to carthage college and dont really know much about the fishing around here. I see a lot of people talking about salmon and trout but I just wanted to know if there is a good place to catch bass, musky, or northern around here. Also if there is any northern in the pike river. Thanks.
9/13/20 @ 12:59 PM
There is a lot of misinformation being reported here. TR carper is accurate. There is plenty of food in the lake, it's just in deep water. I felt I struggled at times this summer because I was competing with an abundance of bait.
The lake dynamics have changed (clarity and light penetration) in the last 25 years that make shore fishing less productive than it had been. With fish stocking just being increased this year, don't expect things to improve for a couple years. 2022 should be good, 2023 will be much better and continue if stocking continues at the level it was this year or increases.
9/12/20 @ 11:11 PM
My 2 cents on the alewives now might be different down here from up by me in Two Rivers. One thing I've the last couple seasons spending most of the summer out there running a charter boat is we have alot of alewives. They just changed there ways. With the higher water and cleaner I've noticed the alewives are staying out in the deep water more and more. Even if the water is colder in close then out deep they are staying out in the deep water. Last week Friday I had mid to low 50's in our gap fishing was slow marked very little bait. They next I decided to go out deep we had fantastic fishing and marked so much bait that at one point the depth finder was getting false reading and all 4 down riggers where vibrating so bad from running through the bait balls. Again thats just my 2 cents on the alewives for up by me now it may be different down there but just something to think about.
9/12/20 @ 7:56 PM
So I guess it makes so much sense to stock more Chinook that feed very heavily on alewives since the alewives are so depleted. Instead cut the brown trout numbers because it takes at least 2 browns to eat the amount of alewives as it does 1 Chinook. I think that we shouldn't stock so many lake trout and use federal money for the DNR and other fish biologists can work on something to deal with the invasive, but what do I know...
9/12/20 @ 7:01 PM
FISHING REPORT
MOON PHASE (27%)
Waning Crescent
@Catcher

Anecdotal evidence, but I've personally witnessed the baitfish decline near Milwaukee.

I've been fishing here for 20 years and remember going down to McKinley and the alewives were EVERYWHERE. ALL DAY.

We'd drop a line with gold hooks and catch our bait and soak it for salmon or trout. Most weeks I'd manage 2-3 fish. Now days I go down there and maybe see some wives, generally not. Catch numbers dropped to 0-1 a week and I go more now than I ever have.

I don't think there's any doubt about it. The invasive species have been here long enough for us to finally see and experience the havoc they bring. The zebra muscles and other invasive muscles depleting plankton. The baitfish feed on plankton. The game fish feed on game fish. Lampray Eels prey on game fish. It's a bad cycle we're in right now.

Unless we seriously try to tackle invasive's, or find a new baitfish to introduce that isn't dependent on whatever the invasive's murder. I heard game fish are starting to feed on gobies, but I doubt it's going to be life altering for them anytime soon.
9/12/20 @ 5:51 PM
Baitfish numbers as well as any any other type of fish have varying cycles of good spawn, survival rate, and size. Yes part of the reason the DNR cut back on king stocking was bc of baitfish estimated numbers declining. In the past 3 years we have seen overall size of salmon increase with catches on average decreasing.
What needs to be kept in mind is that lake trout are always heavily stocked bc of federal funds. There is more federal funding for trout than salmon. I for one prefer to go out and catch a few above average fish than limit out constantly.
As far as the shore fishing goes....shore fishing regardless of body of water is always more difficult than fishing from a boat. More times than not its not the lack of fish but the inability to cover more water with different lures.
Thats my 2 sense. Enjoy and be safe
I can't upload photos again. Smh
9/12/20 @ 5:05 PM
I have been readin whatever I can find on the salmon/trout fishing this year and found nothing saying baitfish were on lower numbers. People come to lake links for information hoping that not everyone on here is a whiner and willing to share some knowlege. So if your going to be one of those people why post on this site? Just keep all the sweet fishing gems to yourself and save the attitude for someone else. As in dont post here if you cant answer a simple question without being a cynical a......
DISPLAYING 1 TO 10 OF 3,384 POSTS