Kewaunee/Algoma (Lake Michigan), Kewaunee County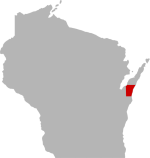 SHARE THIS PAGE
DISPLAYING 1 TO 10 OF 4,815 POSTS
FILTER OPTIONS
US of Ayyyy - usually cost is anywhere from $650 to $750 and thats usually for up to 6 guys for 6 hours. We have a family business out of Kewaunee, please check out the websites below or let me know if you have any questions!
www.predatorcharterservices.com
Alex Ebben
FISHING REPORT
Skunk on our first try. Launched out of Algoma in PK's boat last Sat am. Only 5 other trailers at the launch. Saw fish but none bit. Water was really cold and dying alewives dotted the surface everywhere. It was a bumpy ride but going with the wind was OK. Trolled 80 to 180 FOW seeing bait and fish, mostly in the upper 50 feet. Tried a change to smaller spoons and flasher/fly but no taps on copper, riggers or dypsies. Two guys came in behind us with the same results. I hope the pros were doing better. Some of them were out much farther than us.
FISHING REPORT
went out yesterday afternoon for first time. started in 80 feet and trolled out to 170. temps were 44 degrees 40 feet down. saw some really big bait balls close to 70 and 80 feet down with fish near by. had one release on a aqua green fly and pro king green and black dodger, on 8 color lead core. hopefully some warm south winds will encourage fish to co- operate ...........
FISHING REPORT
pretty much same report for 6/2 tworivers. Tons of alewives in the river and floating around all the way out to 200 and back. Lost one screamer on long copper. Other than that dead sea. Water temp seamed right. One guy had one absolutely full off alewives. Makes sense.
Hey Switch,
Did you try trolling in shallow in front of harbor with all those bait fish ? Anyone you know try in close ? Reports are that fishing last couple days in shallow in front of Milwaukee has been pretty good !
check Milwaukee lake Michigan thread below this thread !
FISHING REPORT
We were the first boat at the ramp this morning quite a strange scene. I have never seen so many bait fish in the river to about 100 yards past the lighthouse the water looked like it was boiling. Lake was glass the entire time out unfortunately not a release, we set up in 70fow worked to 322fow, and trolled back. Thinking a little early? Temp 40 degrees 150 feet down.
DISPLAYING 1 TO 10 OF 4,815 POSTS