Kewaunee/Algoma (Lake Michigan), Kewaunee County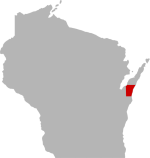 SHARE THIS PAGE
DISPLAYING 1 TO 10 OF 4,711 POSTS
FILTER OPTIONS
Hunter,
Most important is to match your speed to your lure - your lure action is more important that the speed it is traveling. Don't run so slow your sticks aren't wobbling. I run rapalas and flicker shad mostly 2 to 2.5 is good, I prefer 2.5, a little fast is better than a little slow. Browns are cold water fish and don't mind the cold water as much as walleye, plus you cover more water. I check speed and lure action when deploying or with an extra rod and hang over the side of the boat. Play around with speed and watch the action of your lures (like a livelier lure) and note the speed when you get bit.
A north or south wind (even from a day earlier) will affect the long shore current so trolling north may be different from trolling south.
A buddy has some sticks that run good a 1 to 1.5 and spin out over 1.5, but at those speed nothing else is even wiggling.
Browns can be here or there or all bunched up, so if you get bit circle though it again. Sometimes I trolled hours with nothing then happen on a spot and pick up a limit in short order pounding that spot.
Good luck, hope the weather cooperates.
It looks like they have put in the dock at Kewaunee, at the public boat landing. Brand new dock. Water levels are down this year and there shouldnt be any issues . Parking lot is swept and ready for boats and trailers. I would call Accurate Marine to see if the ice is out all the way to the pier head. Good Luck!
DISPLAYING 1 TO 10 OF 4,711 POSTS