Vilas County Lakes, Vilas County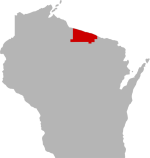 SHARE THIS PAGE
DISPLAYING 21 TO 30 OF 17,105 POSTS
FILTER OPTIONS
Drawsbaby, regarding the dead bluegills it could of been caused by pine pollen. Shoreline pines are ripe with pollen and when that pollen gets disturbed and falls on the water it can cover the shallow shoreline in a yellow surface haze. The pollen then can create a bacteria from the warm water. Bluegill and bass that are shallow to spawn get that pollen and bacteria on their gills causing them to die. Water temperature and other weather conditions have to align just right for this to occur.
FISHING REPORT
Spent 5.5 days (Monday aft through Saturday night) based out of the LDF area (Iron, Vilas and Oneida) and lake hopped some old standbys and visited a few new ones, 10 lakes total. Big and small, dark and clear, chains and lone lakes.
Weather ran the gamut.... from stable, to low pressure, sun and clouds, to Wednesday the storm day, to 2 days of post front extreme brutal winds, and then finally a stable day on Saturday, our last day, which oddly the day of the storm and the Saturday which should have been our two best days (according to the weather and fish behavior), were mostly duds.
I'd say things are a good week or two behind up north yet, based on weed growth, mayflies, lilacs and cottonwood and the lack of fish being where they should be. Water temps ranged from 64 to 72, 66-67 most places, depending on time of day and the color/depth of the lake.
We did find fish, and mostly where they should have been, kinda, and then we had spots where there have always been fish in the past, and this trip they just weren't showing up there, or they were small, and uncooperative. Just be mindful of the wind, and how fish use it when relating to structure....that, and finding a hot lake saved our trip.
Boated 7 on the week; 3 in the upper 30s, one 41"er and three ~30" shorties. Lost 3 fish of unknown size, had a couple other hits, and a small handful of incidental pike catches. One lake became our money spot (first time fishing it).....action started about 5 casts in and wound up boating 3 on a short outing Friday night, and one more Saturday morning on the same lake, and then it shut off like a faucet and didn't have a sniff the rest of the day after that last fish followed at 1030am, which was insanely frustrating based on previous success the evening before and that morning, and the favorable conditions. I'm kinda baffled. Finally found a pattern and then it disappeared abruptly.
Moon rise/set and the major/minor periods did play in some, I'd say. Pretty cool deal there, buddy stuck one, bagged it, high fives/pictures, etc., we were on spot lock while he was changing a leader and replacing hooks, I started casting and stuck another one right there on my 2nd cast after he caught his, while he was still getting situated, and then moved another one 10 minutes later right in that same area.
It was a frustrating week though, as we were on great looking water, awesome looking structure for the most part, and on areas we'd found fish this time of the year in the past, and we found either small fish, quick flash offs or nothing there, for the most part. I think we only had 3 hot follows all week, just one stuck around long enough to be caught on a F8, maybe 6 follows total. Seemed like everything either bit farther out, or the handful that did show up zipped off 5-10ft away. Zero topwater action. Twitched cranks, pull baits and bucktails saw the action. Our best action came on mid lake structure, playing the wind.
At least one of our fish left eggs on the bump board, but were not caught in spawning areas, so must have been just leftovers that didn't get deposited.
The rumors are true, the skeeters are horrible. Tea tree oil helps some, bug dope, pants and a headnet at the landing would be prudent, mid lake and at mid day they were gone, especially when the dragonflies came out. Bought an indoor bug zapper for the cabin and that helped delete the ones that followed you inside overnight. I highly recommend getting one as the cabin was bug free by morning.
Good luck, don't fall in love with an old favorite lake if it ain't working, and stick to the known good baits and anything you have confidence in and you'll put something together. I'd say after this hot blast and thing settle for a day or two, it should be go time up there.
Was out with Derek and Wad for fathers day on a big clear lake fishing Walleyes. There was a little wind coming from the south west and had the walleyes a little shallower. We caught fish on both slip bobbers and leech and jig and crawler. We kept 5 keepers for a meal and let go slots and overs it was a good day all around. Thanks guys you were great. I have a few days open this month still.
Walleye Mike Guide Service
(715) 614-1367
Don't spend any time worrying about it - you can never make everyone happy!
Keep them coming :)
The Woodlands Resort
(262) 661-3968
FISHING REPORT
Fished walleye on a Vilas/Oneida County lake yesterday with the one over 14" reg. Nothing big, but we kept six decent eaters fishing an underwater point with weeds in 8'-10' of water. Slips with leeches or crawlers, fish didn't have a preference. While cleaning all had small perch in them. Bonus musky came on a hair jig prior to finding the eyes.
DISPLAYING 21 TO 30 OF 17,105 POSTS