Lake Mendota, Dane County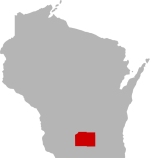 SHARE THIS PAGE
ICE CHART POWERED BY STRIKEMASTER
This chart is for informational purposes only to show what anglers have been reporting for ice depths for Lake Mendota, Dane County and thus is only as valid as the data submitted by those users. This data is not verified by Lake-Link. As always, take extreme caution whenever on ice.
DISPLAYING 1 TO 10 OF 11,661 POSTS
FILTER OPTIONS
It hasn't got any better out there it is very slushy, one of the spots I was at there's only six inches of ice three inches of clear ,3-in of starting to honeycomb. Coming back there's a couple times I said holy sh!!t. The back drop down I have chains gave it all I could. I'm 67, today is my last day out there. Heading to Hayward next. I came off of county Park.
When I came off at County park yesterday afternoon probably 50 to 75% of the west basin has 6" of slush. Got worse as the day went on and some areas it's deeper. ATVs look like V bottom boats going thru the water. Went across one dark spot on my ATV and couldn't see the minor pressure crack in the slush where the ice had lifted about a foot. Luckily I had chains or I would have had to back up to get out. Guys may be struggling to get permanent shacks off this weekend if it doesn't freeze up. Ice is changing fast with the warm weather.
FISHING REPORT
MOON PHASE (92%)
Waxing Gibbous
Spent about three hours this morning off of Warner Beach working from 50 feet down to 15 both out from the parking area and over along the southeast shore,With nothing interested in spikes, waxy's, or minnows. I had hoped the warmer weather might wake up the natives, but no. Moderately slushy, too.
ice-it, yesterday I had the same issue walking away from the 4 wheeler tracks. You'd take a step and step in slush under the snow. I can't imagine how hard it is to walk through now. Nothing worse than wet feet.
I was hoping to get out one last time on Saturday, but not sure if it'll be walkable with all the slush. Hopefully the freeze tomorrow through Friday will help lock it up, but I am not too optimistic.
FISHING REPORT
MOON PHASE (85%)
Waxing Gibbous
ICE IT
100% Mendota has cisco in it. I was on the lake 2 witness 2 being caught by a very well known charter captain. Him and I both freaked out over the first one then to see a second the same day. He has gotten 1 or 2 more sense then.... crazy thing they are all big. Maybe the good ol days are coming back. People just need to learn how to release bigger fish..... 20+. With the size of them there has to be a sustainable population trying to survive. My first time ever seeing one in the chain but very very exciting.
DISPLAYING 1 TO 10 OF 11,661 POSTS