Turtle Flambeau Flowage, Iron County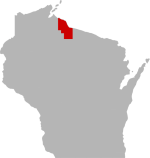 SHARE THIS PAGE
DISPLAYING 1 TO 10 OF 4,640 POSTS
FILTER OPTIONS
4/6/20 @ 4:33 PM
TFF Ice out - as of today, 4.6.20, we still have lots of ice. Shorelines in my part of the lake, near Springstead Landing, are just staring to open up. The small beaver ponds near the landing are partially open. Weather today in low 50's with lots of sun. Forecast is for temps in high 30' to mid 40's for next 7-10 days.
My guess is 2-3 weeks before we have complete ice-out.
I do want to add, in these very uncertain times, that right now there is not much medical infrastructure up here, and grocery stores are having a hard time keeping up with current demand. Currently, like the rest of Wisconsin, taverns are closed and some, not all, restaurants are open, doing carry out only.
Don't expect the same kind of non-fishing experience that you usually have, and if you come up for the opener, please plan accordingly.
Tight Lines to everyone, stay safe.
Tom502
3/31/20 @ 10:06 AM
WHR:
Well if I have to social distance still... Fisherman's and Springstead would be two of the landings I would continue to avoid on opening day!!! As for the Native American spearing, it will be the same as the opening of fishing day... if social distancing is supposed to be "being adhered to", some will, some won't based on today's performances...
Musky Ben
3/8/20 @ 1:34 PM
Here are the results from the Turtle Flambeau Flowage Associations Ice Fishing Jamboree.
3/8/20 @ 1:31 PM
as always, appreciate your help/knowledge Tom!
I wasn't aware the DNR made a 3 fish bag limit permanent... good to get the word out!
"For the fourth straight year, anglers will find a three-walleye daily bag limit on every lake and river in northern Wisconsin, an enormous benefit to the tourism industry compared to the years of bag limits that were lower or changing in mid-season.

The Department of Natural Resources (DNR) made the adjustment by emergency rule the first year and made it permanent two years ago, replacing a system that routinely left anglers with two-fish and one-fish daily bag limits on hundreds of premier walleye lakes as the season opened.

That's an important message to get out to visitors this weekend, which will be more like an opening weekend now that the ice has left or is close to leaving many of the premier walleye lakes. Lingering winter weather that delayed ice-out definitely had an impact on tourism and anglers last week, when many stayed away. "
DISPLAYING 1 TO 10 OF 4,640 POSTS