Two Rivers/Manitowoc, Lake Michigan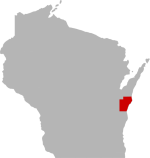 SHARE THIS PAGE
| | |
| --- | --- |
| | @ the lake |
DISPLAYING 21 TO 30 OF 7,778 POSTS
FILTER OPTIONS
7/6/20 @ 6:02 PM
FISHING REPORT
MOON PHASE (97%)
Waning Gibbous
Nice conditions and pretty good action for myself and a grand-daughter as we did a very early very short run out of Manitowoc Monday AM. I only ran 4 rods to keep it simple and was able to keep things flashed up every 20 minutes or so running 2 wire dipsies and 2 riggers. At 4:06AM the port dipsy out 80ft. set 2 with regular sized ring on it took off pulling a mag glow spoon. A 650 ft. run in the warm water took most of the steam out of the larger female chinook as I netted it about 4:30AM can't rush those guys. Over the next hour that same rod took 2 nicer steelhead. We were both happy with 3 fish our only hits so I pulled at 5:45AM getting in before the heat of the day. We stayed in 110ft. to 130ft.. Only a few fleas on the lines, no biting flies and the King had some alewife in it. Always a treat to land a Big King. Good luck.
7/6/20 @ 12:44 PM
FISHING REPORT
MOON PHASE (97%)
Waning Gibbous
Headed out to T-Woc on Friday night to see if I couldn't find a Kingaling, but didn't get lines wet until 7:05 PM. Checked out the wind, temps and reports from the previous few days, headed NorthEast and dropped the Terrova in 100 feet of water. Ran one 5 color UV Mooner (Crayola) on a board, one dipsey with a blue Mooner at 135 feet and one rigger with a Mooner flasher and fly at 45 feet where "Chicken Hawk" found Calgon like conditions (47 degrees). Dead Sea, so I decided to try some Jones.. George Jones" and that seemed to be the right melody!! At 8:51 PM the dinner bell rang on the 5-Core (Have bells on my poles) and then all hell broke loose!! She made two lengthy runs and I thought I was going to run out of line (550 ft), so I turned the Terrova sideways and backed off on the pressure a smidge. She stopped and then ran at me. I hammered on that reel like a piston on a Pinto and barely kept up. There was a lot going on in that boat trying to clear a path in the dark by myself! Finally got to the board.. I flipped the lever and went for the pin, but she decided to go to Two Rivers, so the board ran down the line. I made a couple of fruitless efforts to get the board off but to no avail. I decided to just keep tension and net her and the board. 13 minutes later, I finally got her in the net. My personal best, 22.4 lbs. What a freaking riot! Anywho, nothing after that, but who cares!! I did have one down blouse when putting the 5 core back out (just nibbled and let go). Got a couple of hours of sleep and then went back out at 4:30 am and went back to the same spot and picked up a 5 lb Kingaling, complete with jewelry!! Same pole, same 5 color and Moonshine UV. I hoisted the fish in, along with a 16" lamprey, which then let go of the fish and was slithering like in the bottom of my boat like a Cobra!! So nasty!!! That one was in 100 feet as well. Nothing doing in that range, so I decided to see I couldn't find Rainbow Brite and headed deeper. I set up the 5 core with a red flasher and an Orange and White Mooner and 30 minutes later (275 feet), I picked up a 9.5 lb Bow. That's all she wrote! I did have one more drive by on a down rigger (On and gone). Fun trip. Plan to head back on Monday or Tuesday or both! Stay safe and Good Day! Kyle
7/6/20 @ 11:17 AM
FISHING REPORT
MOON PHASE (97%)
Waning Gibbous
Last minute decision to try the big lake again because it will be the last time I can get out for quite a while. Went out of Manty on Friday, late start, but had lines in around 5:30pm and fished until 9:30pm. Set lines at 120 and trolled out to 150. 10# King 75 down on rigger with F/F in 150fow. Hit a 21# king in 150fow on rigger 65 down on F/F. Nothing on Dipseys. 4 color lead on planer board with spoon had a screamer, snapped 4/0 single hook at the eye, or worked it way off the split ring?? . A small king on 65 rigger close to dark in 110fow. Another small king shaker on 75' rigger when pulling lines.
Saturday morning july 4th, another late start as the boat landing parking was full at 5:54am. Got lines set after 6:00am and hit a 20# king on 85' rigger F/F when be got to 150fow around 7:00am. Exact same waypoint we hit the 21# the night before. Nothing else until about 10:00 with a catch and release 3 lb rainbow on 180loc dipsy with F/F. It looks like the big king bit was over pretty early.
6/7 overall.... about 1 hit/hour or less running 4 lines mostly. Had fun as usual with my son and its a special bonus when you are blessed with a beautiful fish or two.
Capt Donut
7/6/20 @ 6:44 AM
OldMillXxX,
We used our phone flashlight. I'm sure there are better ways, but this way worked fine.
Capt Jerry
Anglers Plus Guide Service
(920) 973-2868
7/4/20 @ 11:40 PM
FISHING REPORT
Well I posted need for a partner here early this morning. Russ from Wausau said he's available and what a great day making a new friend! First day on my new boat, went four for five, two kings and two bows, 120-170fow, on spoons and FF. Special thanks to Kent at Seagull Marine for getting a deal made on this boat! You were right Kent, I really like it!
7/4/20 @ 6:33 PM
FISHING REPORT
My son and I went out of Hika at 3:45AM, starting in 80 and working out to 110'. The first fish hit a glow spoon as we were setting up. From then until 515 it was constant action. I dumped one at the net, and we had two others shake off, with the rest of the fish landed. We pulled lines at 715, with 4 kings, 1 coho, and 1 bow in the box. Glow spoons had caught 5 of the 6 fish, and we were only running 2 out of our six lines. 2 colors leadcore and 140' back on a dipsey took the most fish. Biggest king was right at 20lbs.
Anglers Plus Guide Service
(920) 973-2868
7/4/20 @ 9:34 AM
FISHING REPORT
Fished from 3:30-11 am and went 8 for 12 yesterday. Kings early then bows later. 90-180 FOW top 50'. Glow Spoons then shiny spoons the brighter the sun got (no particular color). 16 lb King on FF.
Check out the cool pic of the Rainbow (not sure how that happened). Good Luck.
Capt'n Fishrepellant on the Reel Problem. ??
DISPLAYING 21 TO 30 OF 7,778 POSTS