Two Rivers/Manitowoc, Lake Michigan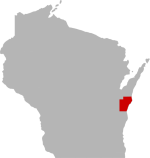 SHARE THIS PAGE
| | |
| --- | --- |
| | @ the lake |
DISPLAYING 20 TO 29 OF 7,669 POSTS
FILTER OPTIONS
9/1/19 @ 5:45 PM
Great day fishing today. Got one for the smoker
But most of the day was spent dodging the boat called AFTERMATH. They park in the Manty marina and they would leave the harbor make circles around the fishing boats and go in. Then come out and do it repeatedly .
It's a public lake but they were intentionally doing it.
Grrrr
8/29/19 @ 9:35 AM
JZFisherman - 0% chance of catching anything from shore at point beach...be it salmon, bass, or carp.
Try going off the pier heads in Two Rivers or Manitowoc from starting at 3am to maybe 8am. Cast Cleo's, Kastmasters, or Krocodiles. Blue/silver, green/silver, glow, or anything with orange. You can also try spawn sacks or alewives on a slip bobber.
Use CAUTION on the piers with the kids if they are younger. The water is so high it can easily wash over the top of pier right now if the lake kicks up. Last winter a big roller came in and washed the entire LIGHTHOUSE into the drink on the Manty south side pier in one fell swoop. There one second, completely gone the next. Here is the video
https://fox11online.com/weather/weather-stories/manitowoc-lighthouse-washed-into-lake-michigan
If the waves are coming over the top even just a little bit and enough to get your feet wet, I would definitely think twice before bringing real little kids out.
DISPLAYING 20 TO 29 OF 7,669 POSTS