Fox River DePere - Voyager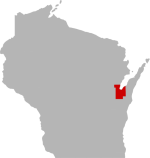 SHARE THIS PAGE
| | |
| --- | --- |
| | @ the lake |
DISPLAYING 41 TO 50 OF 16,303 POSTS
FILTER OPTIONS
4/24/20 @ 8:00 PM
FISHING REPORT
MOON PHASE (2%)
Waxing Crescent
Water temp was 45-46+/- with maybe 1.5' visibility and slight NE wind. Saw 6 boats and some fish on the screen but no takers, a few taps but nothing in the boat. Tried minnows, plastics, rippin raps, nothing was interesting to them. Elvis has left the building.
4/24/20 @ 4:26 PM
FISHING REPORT
MOON PHASE (2%)
Waxing Crescent
Anyone catching White Fish as of today 4/24?
Wife said she wants more smoked!
Switching from the Bay to the River tomorrow (Saturday). Want to target WF.
Fished the Bay today pulling stick cranks and started up by the Eagles Nest. Interesting event early, Silver/ Black ranger 620 went by me like a bizerk and had fun watching him piss pound his 2 occupants. Why do people think they need to go as fast as possible?
We were in 4'ers!
No walleyes in U-Bay for me today. had a big Musky on and numerous huge Sheep.
Did foul hook several walleyes by the scales on the baits but nothing in the net.
That cold brutal N wind can go somewhere else!

Thanks,
David
4/22/20 @ 6:33 AM
WalleyeAngler78, nice walleye but for future reference male walleyes do not get that big. The average size for a male walleye is 20" Examine the walleye's posterior. The anus on a male is circular while the anus of a female resembles a keyhole. Thanks for sharing the picture.
4/21/20 @ 11:26 PM
FISHING REPORT
MOON PHASE (2%)
Waning Crescent
Fished this last Sunday 4/19. Wind was blowing E when we launched and went still around noon. Marked fish all over near the dam, but they were tight lipped. Now, I've only fished De Pere for a few years. This year was finally the year I figured it all out. We had a ton of success last week Friday 4/10. But I could definitely see the big girls and boys being out to the bay already. We did find one lonely white bass up stream in a 30' hole near the power plant. And one 17" walleye, but that was about it for the day. Time for this guy to switch gears and prep for crappie and target some big smallmouth. It was a blast in De Pere this year and I already can't wait for next year! Tight lines to all, and stay safe. Picture is my personal best from a couple weeks ago. 27" Male.
DISPLAYING 41 TO 50 OF 16,303 POSTS