Pro Fisherman Adrian "Jersey Boy" Avena Signs with Popticals Sunglasses
ST. LOUIS, MO
-
Popticals
, maker of compact performance eyewear, announced recently that Bassmaster Elite Series Pro Angler, Adrian "Jersey Boy" Avena, signed with the company as one of its sponsored athletes.
Avena progressed quickly through the FLW College Fishing series fishing for Chestnut Hill College. 2012 was his rookie season in the Tour Majors Division where he earned 23rd place in the Angler of the Year race. In 2016 he joined the Bassmaster Elite Series. He has two career wins and eleven Top 10 Finishes on the FLW Tour and two Top 5 and five Top 10 Finishes on the Bassmaster Tour.
"With being a full time Tour Angler, I am constantly on the go," said Avena. "The convenience of Popticals pop-out technology, combined with their high quality polarized lenses had made it a no brainer to partner with them."
Avena joins Popticals' roster of fishing pros which includes Skylar Hamilton, Katie Jackson, Mike McCoy, and FLW Tour favorite Scott Suggs.
Out on the lake, stream, or ocean, Popticals are the most innovative and cutting-edge sunglasses for fishing. Their patented design allows for safe, convenient storage so you never damage your fishing sunglasses again. NYDEF™ lenses offer a whole new level of optical clarity that enhances your vision on the water.
ABOUT POPTICALS COMPACT SUNGLASSES
Entrepreneur and Popticals founder David Porter saw a problem: sports sunglasses have no easy and safe way to be carried around when not in use. The cases wrap-around sunglasses come with are too bulky, and without a case, they often end up broken or lost. So David did what he does best and invented a solution: a design that allowed wrap-around sunglasses to compact down to a small size.
Popticals sunglasses feature the company's patented FL2 Micro-Rail System® and crystal-clear NYDEF™ lenses manufactured by Carl Zeiss Vision. The FL2 System allows Popticals eyewear to separate at the bridge, and the lenses to slide parallel and nest on top of each other for storage in a custom compact case. A must-have piece of fishing gear, Popticals solves the problem of how to safely and conveniently store performance wrap-around sunglasses when not being worn.
For more information on Popticals visit www.Popticals.com.
Media members interested in receiving samples from Popticals for an editorial review should contact Joe Wieczorek (joe@themediagroupinc.com) of The Media Group, (847) 956-9090.
Popticals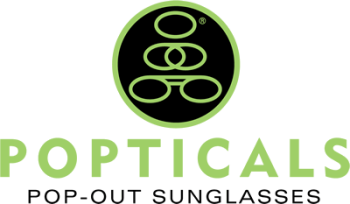 If you have a press release that you would like to see on Lake-Link please
contact us
.