Washburn County Tourism Information Office
122 N River St.
Spooner, WI 54801
(800) 367-3306 - toll free
Email Us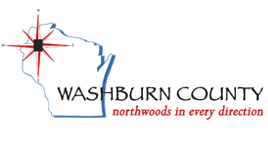 Washburn County Tourism Welcomes You!
Welcome to Washburn County, "Northwoods in Every Direction." Washburn County is the perfect home base to begin and end each day of your get-away adventures in Northern Wisconsin.
Wilderness hunters, anglers and wildlife enthusiasts are drawn to Washburn County because of its unique natural attributes. Washburn County has over 150,000 acres of wild, public lands, making the area a great get-a-way to enjoy all that nature has to offer. As a result of sparse population and careful land management practices, Washburn County's lakes and rivers have superb fishing and recreational possibilities.
Washburn County has more than just a wealth of outdoor activities and natural beauty. There are sports and recreational activities to interest everyone. There are hundreds of miles of groomed snowmobile, ATV, bicycle, horseback riding and hiking trails, all of them are picturesque at any time of year. There is a three day, action packed, professional rodeo in the summer, many wonderful golf courses, museums, specialty stores and a scenic train ride. Within the county there are many special events and festivals with outdoor music that reflect the hometown, family friendly environment that you're looking for to make your get-away relaxing and pleasant.
Come, relax and stay awhile. Slow down and spend some time with us, taking in the beauty of "Northwoods in Every Direction."
Snowmobile
Washburn County boasts some of the most scenic snowmobiling in the state. Over 240 miles of groomed trails wind through public forests covering literally hundreds of thousands of acres. Washburn County is unmatched for wilderness sledding that is close to lodging and amenities. Our local trails link to the largest network of snowmobile trails in the Midwest. Hard-working local snowmobile clubs have developed a top-notch trail system that crosses public and private lands, lakes, streams and bridges. The varied terrain includes hardwood and evergreen forests, wetlands and farm fields. You'll see towering pines, rolling hills and deep valleys. Nearly 1,000 lakes in the area offer more than 30,000 acres of lake riding. Most trails are maintained from early December through March, depending on
conditions
.
ATV
Over 100 miles of ATV trails linking to an ever-growing Northwest Wisconsin ATV Trail system make Washburn County a premier ATV destination. Multiple loops throughout the county, linking to the Wild River Trail, create an ATV experience like no other. Ample ATV parking areas and access to lodging and restaurants make planning an ATV vacation easy. ATV trails open the Saturday of Memorial Day weekend and stay open through the winter. Fall is an especially enjoyable time to explore the area trails and take in the breathtaking fall colors.
The County Forest does allow limited motorized vehicle access on roads and trails within the forest. The Washburn County Forest is split into 31 integrated resource management units, each unit designated as open to motorized travel; open to motorized travel on designated roads and trails; or closed to all motorized travel.
The County has 49,000 acres of forest open to motorized travel on all established roads and trails; 78,000 acres of forest with roads open to motorized travel on a two mile density, and 21,000 acres closed to all motorized travel.
**CURRENT TRAIL CONDITIONS-CLICK HERE**
Fishing
With nearly 1,000 lakes in Washburn County, you are sure to find the perfect lake to make those fishing stories a reality! Washburn County is home to Birchwood, known as the Bluegill Capital and Long Lake, known as the Walleye Capital. Not only are our lakes great for fishing, but our rivers are excellent too! Be sure to check out our Lakes Guide for more information on the named lakes in the area.
Click here for more information on Fishing
If you didn't bring your boat, don't worry! There are many locations in the area that you can rent a boat, inquire at the information center located at 122 N River Street in Spooner. You can also take a look at our boat rentals and dealers on our website.
More.........
Looking for more ideas of what you can do in Washburn County?
CLICK HERE
to get more information on what Washburn County has to offer. Such as Biking, Canoeing/Kayaking/Tubing, Cross Country Skiing/Snowshoeing, Golf, Hiking & Wildlife Viewing, Hunting.......... and the list goes on.
** Rates subject to change without notice.
---