T-Bone Guide Service
201 Mary Lane
Cary, IL 60013
Email Us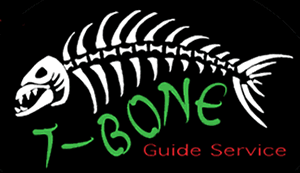 T-Bone Guide Service specializes in Northern Illinois and Southern Wisconsin for the Multi-Species Angler. Captain Chris provides information and advice on the best rods, baits and techniques needed to become a successful angler in your area.
About Me
I have been fishing as far back as I can remember. Ever since the day grandpa took me to the local pond to catch bluegills and bullheads at age three, I have been completely in love with the sport! Lucky enough to come from a long line of fishermen in the family, I was always taken on trips to the lake on the weekends. That is where it all began. From that point on, I watched every fishing show I could, I read every fishing magazine I could get my hands on and I fished every local pond or lake I could ride my bike to. I constantly tried new things I saw on television or read about in the magazines and honed my skills every time out. Eventually I saved up enough money thru my allowance and mowing lawns and shoveling snow for the neighborhood folks along with some help from my family to attend Camp Fish.
Camp Fish was a fishing school started by the famous Al Lindner and the In-Fisherman crew. I had the opportunity to learn from the best in the business for a week out of every year for 5 years in a row! It was a fantastic experience to learn and to become a much better fisherman. By 16 years old, I had my own boat and fished as often as I could. Grandpa and I traveled all over the Midwest to different lakes and rivers, learning new waters and learning how to adapt to different situations and consistently put fish in the boat. There was not a week that went by that I was not on the water fishing! Throughout my years of fishing, not only was I lucky enough to fish with my grandpa, and the guys at the In-Fisherman, but I also became friends with pro fisherman and guide Sean Bermingham at a young age. Sean took me under his wing and really helped me become an even better and more well-rounded angler.
By my early twenties, I had a very good understanding of the sport and wanted to take my skills to the next level. Between doing well in local tournaments and getting the opportunity to fish with pro fisherman, I knew that I one day I wanted to be able to teach others what I had learned along the way. In recent years I have also had the opportunity to become friends and fish with Hall of Fame Angler, Spence Petros. I have been blessed to have the opportunity to be able to fish with the best of the best, and I would love to be able to teach you everything I have learned throughout the years.
I believe that I still learn a little something new everyday on the water. I am humbled by this sport and feel honored to do what I love for a living.
Rates
Full Day (at least 8 hours of fishing) – $325
Half Day (at least 4 hours of fishing) – $250
Add a friend for an additional $25.
*Note: Guide Rate subject to change. Booking a Guide Trip and making the initial deposit will guarantee the current rate.
What to Bring
You will want to bring a few things along with you:
Sunglasses – a good pair of Sunglasses are important to protect your eyes from the elements.
Rain gear
Cooler with Ice – if you plan on keeping any fish, this is a necessity.
Lunch – we will usually stop at a local restaurant to have lunch, but you are welcome to bring your own lunch if you prefer.
Everything else will be provided for you: Sunscreen, water, snacks, rods, reels and all baits.
What to Expect
First and foremost, you can expect to have a fun and enjoyable day on the water. You will be provided all top-of-the-line gear to fish with along with a top-of-the-line Ranger fishing boat to fish out of. I will share my years of experience with you to help you catch more fish and become a better angler.
We will meet at the boat launch at the agreed upon time. From there, we will venture out in pursuit of the species of your choice. I always have bottled water and snacks on the boat. You are welcome to bring your own snacks or drinks along as well. It is up to you if you would like to stop at a restaurant accessible by water for lunch or to bring lunch along. There are restrooms available at all the lakes we fish, as well. If you catch fish that you would like to bring home, I will clean them for you at the end of the day.
While you are on the boat, I want you feel at home and have a great experience!
I look forward to fishing with you soon!
Waters Guided
Fox Chain of Lakes
Lake Michigan
Species Targeted
** Rates subject to change without notice.