Phelps Chamber of Commerce
P.O. Box 217
Phelps, WI 54554
Email Us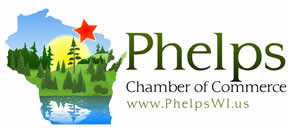 Phelps, Wisconsin: Great Fishing in the Northwoods!
The stunning natural landscape of Phelps, Wisconsin has made it a premier travel destination for well over 100 years! Located in the northeast corner of Vilas County in the beautiful Northwoods of Wisconsin,
Phelps
has over 90 square miles of nature opportunities. Most of the town is located within the Nicolet National Forest, with the wilderness of the Upper Peninsula of Michigan and the Ottawa National Forest right next door!
Land the Big One in Phelps, Wisconsin!
The abundance of forests and fresh water was the main attraction for the first settlers and visitors, and this is still true today! In fact, one of the first visitors to the area came to Lac Vieux Desert in the 1880's because he had heard accounts of the great fishing opportunities. This tradition of fishing tales has continued ever since, and not all are exaggerations. Fishermen have been boasting honestly of their big catches in Phelps, Wisconsin for over a century!
An Abundance of Freshwater Fishing in Northern Wisconsin!
The
fishing prospects
are endless! The headwaters of the 430 mile long Wisconsin River begins in Phelps at Lac Vieux Desert, before stretching across the state and into the Mississippi River. In addition, Long Lake feeds the Deerskin River, which is a favorite for many returning fishermen. The Deerskin is overflowing with sizable brook trout, and a great place to catch your daily limit! North Twin Lake is 2788 acres and connects to South Twin Lake, another 642 acres, and is neighbored by numerous other large fresh-water lakes, including Smokey Lake, Big Sand Lake and Kentuck Lake. In fact, Phelps is home to some of the larger lakes in Vilas County!
Our musky fishing is so spectacular that Phelps hosts several fishing tournaments every year, including the Midwest Musky Classic. This tournament is sponsored by the Phelps Chamber of Commerce, and takes place the first weekend in October, the perfect time to land a sizeable musky. In January, the Phelps Lions Club holds the Annual Great Northern Ice Fishing Tournament on Lac Vieux Desert. And the Annual Kids Fishing Jamboree, held on Lac Vieux Desert, is a free event and a great opportunity to help kids connect with their environment. For more information about fishing events taking place in the area, contact the Phelps Chamber at 715-545-3800 or visit our
website
.
Plan your Phelps Wisconsin Vacation Today!
Phelps is the ideal location for a serious fishing trip or a relaxed Northwoods
family vacation
. Whether your interests lean towards boating, swimming, jet-skiing, canoeing or kayaking, you will find a lake to fit your needs here! Try your luck at catching a trophy walleye or record-breaking musky. And don't fret if you can't visit during the summer – ice-fishing is a popular recreation in the colder months as well. Make Phelps your four-season destination for fishing!
** Rates subject to change without notice.
---