Milford Hills Hunt Club & Sporting Clays
W5670 French Road
Johnson Creek, WI 53038
(920) 699-2249
(920) 699-8919 - fax
Email Us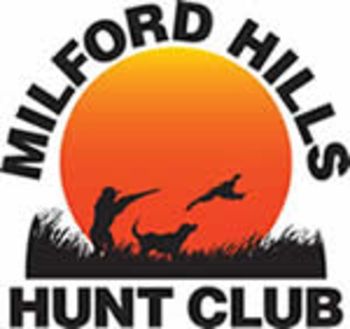 "The most complete upland game hunting experience..."
Upland Hunting
The rolling countryside of southeastern Wisconsin provides the perfect setting for Milford Hills' nine fields. Each field takes advantage of the natural terrain to offer the true feeling of the "hunt" to you and your group.
The habitat is made up of switch grass that is groomed during the summer to provide the best cover during the hunting season. Mixed in are strips of sorghum planted fresh every spring providing not only cover for the birds, but food that keeps those "extra" birds in the field. The fields also have areas of natural cover in the form of wooded areas, cane and other native, natural growing plants. Every field is enjoyable to walk, with no large hills to climb. Fields generally average 40 plus acres and the cover stripped to provide just the right size strips for four people to hunt. Milford Hills releases pheasants, chukars and quail. Fields have access to fresh water from either the pond or ditches for your canine companions. Milford Hills also provides water containers throughout the fields in hot weather as additional water sources for your dog.
Have a young dog that needs some "field experience"? Try Milford Hills' training field. This field is fenced in so the birds cannot run out on your dog nor can the dog run away chasing its first bird. It provides a great opportunity to get your dog into a field.
Sporting Clays
Milford Hills Sporting Clay course has grown to be one of the premier sporting clays courses in Wisconsin. Developed in the spring 1998, our course is spread out on our 400 acres of picturesque Wisconsin countryside. Dedicated to always fine tuning and improving the 8-14 station course. Two presentations and Auto Sporter automatic traps at each station will challenge even the sharpest shooter. Members of the Wisconsin Sporting Clays Association (WSCA) and the National Sporting Clays Association (NSCA), Milford Hills received the "President's Outstanding Gun Club" Award" from the NSCA in the fall of 2002.
Throughout the year, Milford Hills plays host to some of the largest registered shoots in Wisconsin. In August of 2004, Milford Hills will host the Wisconsin State Sporting Clay Shoot. Over 500 shooters are expected to attend this outstanding event. The club is also home of the infamous "Chili Bowl Shoot" and "Bucky Shoot".
From April through September, the course is open to Thursday & Friday from 12:00 till dusk, Saturday and Sunday from 10:00 to 3:00 pm October through March, the course will be open Sunday, from 10:00 until 3:00 pm. Any other time, the course is open by appointment. Milford Hills also organizes Summer and Winter Sporting Clay Leagues. Call for additional information.
Membership
Individual & Corporate Membership Includes:
Bird Pick Up & Cleaning
No Charge for Extra Birds Harvested
No Guest Fees
House Account
Mud Room & Shower Room Facilities
Dog Cleaning & Gun Cleaning Facilities
Hybrid Bluegill & Bass Fishing (Catch & Release)
Services & Events
Full Lunch & Dinner Menu
Members Social & Sporting Clays Tournament
European Tower Shoots
Members Pheasant Flush Tournament
Members Holiday Classic Chukar Tournament
Warm Up Clay Shooting
Sporting Clays Course
Sporting Clay Summer League
Private Clay Shooting for 15 or more People
Dog & Handler (Pointer or Flusher)
Tri-tronics Dog Collar Rental
Take Home Frozen Pheasant Entrees
Meeting, Party & Wedding Facility
Pro-Shop (Browning Sportswear, Fiocchi Shotgun Shells & Dog Training Accessories)
The Lodge
From the time you drive under the unique entry sign at our driveway and notice the distinctive landscaping, you realize that you are going to experience something special. Open the door to the lodge at Milford Hills and enter a truly unique facility. A fieldstone fireplace and bar, hickory floor, and soaring pine ceiling characterize this expansive structure that looks out upon the picturesque countryside of Jefferson County. The lodge is tastefully decorated with many trophy mounts, such as deer, moose, elk, ducks, geese and other species. Within the club house, one will find many amenities to make your Milford Hills experience memorable.
Take advantage of our:
Convenient bar and grill featuring appetizers, soups, pizza and sandwiches.
All made fresh daily.
Pro Shop
Mudroom
Locker Room
Dog and Gun Cleaning Area
The Restaurant
Known throughout the area for its homemade and hearty meals, Milford Hills' kitchen is worth the trip alone. From their hearty "Black Angus" burgers to their delightful pheasant breast sandwich you will never go away hungry. Choose from the appetizer menu or off the regular menu for an array of items. The newly expanded and remodeled kitchen is able to accommodate all sizes of groups from 2 to 300. Be sure to ask about our group menu.
Milford Hills offers a wide variety of home made pheasant entrees which include:
Pheasant Pot Pies
Pheasants Wellington
Pheasant Lasagna
Pheasant Enchiladas
Pheasant Chili
Smoked Pheasants
** Rates subject to change without notice.